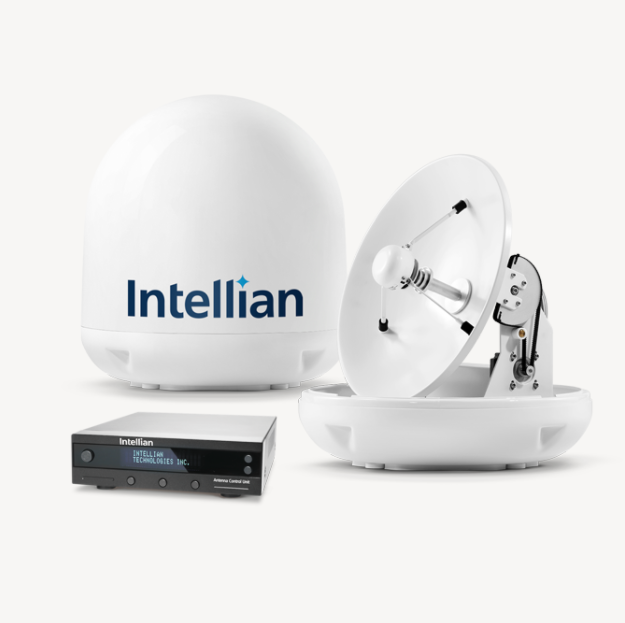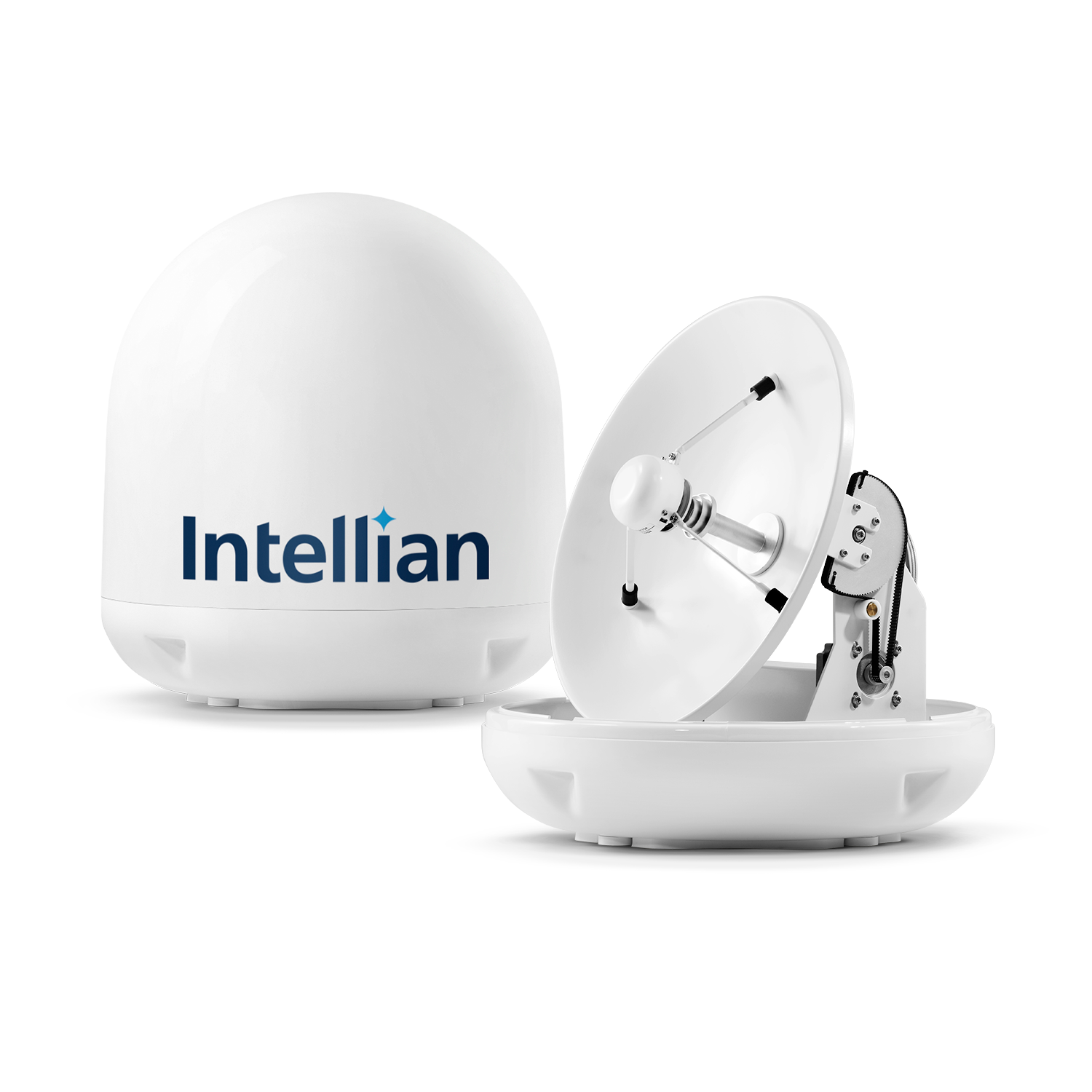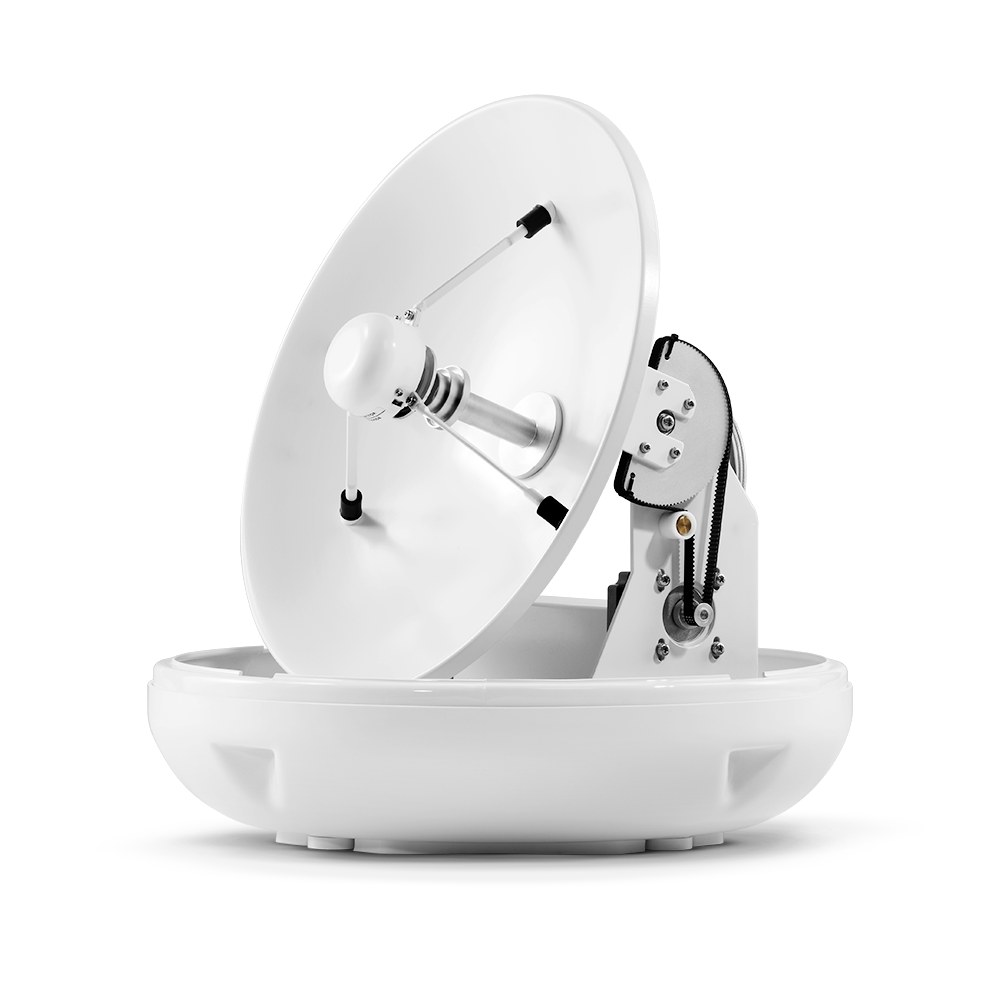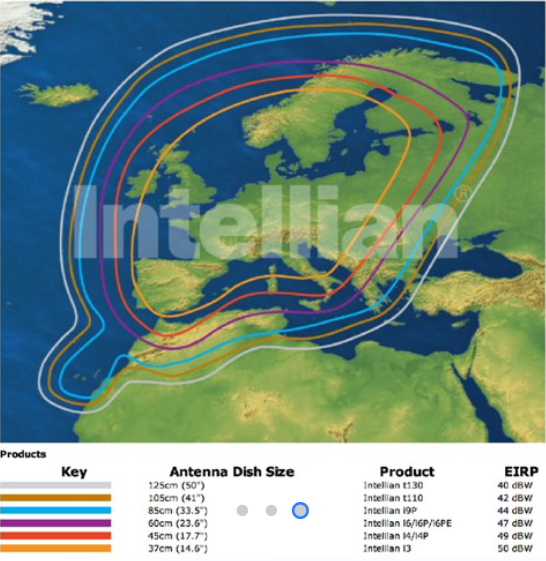 I4P
TV antennas
Ref : IT-B4-419Q
Satellite TV antenna 45cm - 4 output
PRICE : 6 534,00 € With VAT (20%)
Description
Go further with I4P
The i4P offers the highest signal strength available with a 45cm (17.7?) reflector, significantly increasing the coverage area.

With iQ² technology, the i4P offers the most precise tracking capabilities and superior satellite signal reception while the vessel is cruising at high speed or in rough sea conditions.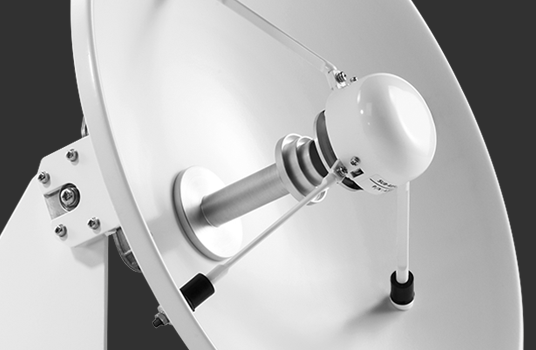 Long Distance Cruising with I4P
The i4P model is ideal for vessels cruising between different locations within a global region where the polarization angle of the satellite signal changes (For Example: Europe, South America, Asia Pacific).
Starting with the i4, all P models are equipped with an integrated Auto Skew Angle Adjustment assembly, which eliminates the need to manually adjust the skew angle of the LNB.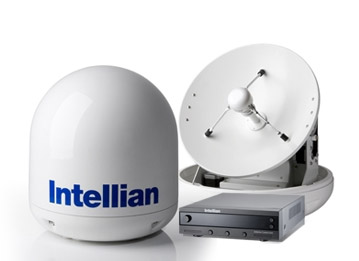 ---
Product advantages
Power and efficiency make the i4P the most popular 45 cm (18 inch) Satellite TV system for pleasure boats, fishing boats, workboats, and commercial vessels approximately 12m (35ft) to 20 (60ft) in length. This TV antennas I4P is : 
The available i4P version is equipped with Automatic Skew Control, which allows for better satellite tracking on vessels operating over greater distances
Compatible with leading satellite TV service providers around the world
Travel further North or South with an extended elevation range of 0° to 90°
Auto satellite switching function from your remote control
50° per second turn rate ensures signal tracking at high speeds and in rough seas
Simplicity of design, no external compass or rate sensors required
---
Features
The TV antenna I4P is: 

Fully Automated System
Automatic Satellite Search and Identification function
2-axis high speed tracking system
 High Performance Antenna
45 cm (17.7 in) diameter parabolic antenna for receiving Ku-band satellite signals
Circular or linear polarization depending on the region and LNB selected
Built-in HD module for Ku-band HD TV reception
 iQ²: Quick&Quiet Technology
iQ² Technology allows you to tune in quickly, maintain a solid signal lock, and enjoy your favorite TV programming in quiet comfort
The Wide Range Search (WRS) Algorithm delivers the fastest signal acquisition available anywhere
Dynamic Beam Tilting (DBT) technology uses intelligent, real-time beam analysis to ensure superior signal quality while eliminating intrusive background noise experienced with conventional antennas
 Antenna Control Unit
Intuitive controls and digital information display on the ACU
Wireless automated updates and diagnostics via Aptus PC and Aptus Mobile
DC Out Port for easy power supply to the MIM or the Shaw Decoder Module
 Multiple Receiver Capability
Multiple receivers and TVs can be connected using a Multi-Switch or the MIM (Multi-Satellite Interface Module)
Using the MIM a master receiver can be selected to control the target satellite
In North America, when using Dish or Bell TV, a MIM is required, enabling automatic satellite switching from your remote control just like at home
 Built-in GPS and NMEA 0183 Interface
The i4 includes a built-in GPS inside the Antenna Unit for faster signal acquisition. The ship's GPS can also be connected through the NMEA 0183 port on the rear panel of the ACU
 Stylish Radome Profile
50cm (19.7 inch) antenna radome diameter
Antenna weighs less than 11.6 kg (25.5 pounds)
---
In the box
1 X Antenna I4P
1 X Control Unit
1 X Caliper for control unit
1 X RG6 antenna cable 15 m
1 X RG6 antenna cable 3 m
1 X Power cable 10 m
1 X 1m80 Series Cable
1 X NMEA connector
1 X Power connector
1 X Lot of screws
1 X CD installation (English)
1 X Manual (English)
Technical characteristics
Decoder output : 4
Parabola diameter : 45 cm
PIRE : 49 dBw
Type : 2 axes
LNB : 4

---
Videos
Intellian APTUS Mobile App
---
Parts and accessories
| | | |
| --- | --- | --- |
| SW-SM-18-A | SM-18-A PLATEFORME DE MAT POUR INTELLIAN I4 | 741,60 € With VAT (20%) |
| SW-PMA-DM1-M2 | PMA-DM1-M2 SUPPORT DOUBLE TOUT RADOME ET SATDOME "HAUTEUR TOTALE DE 12,5""" | 1 420,80 € With VAT (20%) |
| SW-PMA-57-M1 | PMA-57-M1 SUPPORT MODULAIRE INCLINAISON ARRIERE DE 5 "127 MM, BASE 7""X 7""" | 272,40 € With VAT (20%) |
| SW-AMA-18 | AMA-S4 REDUCTEUR ANTENNES COMPATIBLE CALE AMA-W I4 | 393,60 € With VAT (20%) |
| IT-S2-0808 | LNB DOUBLE USA (I3) (I4P/I6P 2 SORTIES) I4P/I6P 2 SORTIES - Replaced by IT-S2-0820 | 234,00 € With VAT (20%) |
| IT-S2-4109 | DOME VUOTO I4/I4P INTELLIAN | 624,00 € With VAT (20%) |
| SW-AM5-M1 | AM5-M1 SUPPORT MODULAIRE "DROIT 5'' BASE RONDE 8""" "127 MM, BASE RONDE DE 8""" | 331,20 € With VAT (20%) |
| SW-ADA-S2 | ADA-S2 PLATINE MODULAIRE POUR ANTENNES TV INTELLIAN I4/I5/I6 | 401,16 € With VAT (20%) |
| SMS5808 | MULTISWITCH SMS5808 8 SORTIES SERIE 8 | 282,00 € With VAT (20%) |
| SMS5608 | MULTISWITCH SMS5608 6 SORTIES SERIE 8 | 240,00 € With VAT (20%) |
| RO-00056 | CONVERTISSEUR CC 24V 4.2A POUR ANTENNE TV (I3/I4/I6) | 184,80 € With VAT (20%) |
| IT-M2-TM03 | INTELLIAN DUAL TV-SAT MEDIATOR DUAL TV ANTENNA AUTO-SWITCH CONTROLLER - 220V | 4 788,00 € With VAT (20%) |
| RO-00019 | CABLE COAX. AU MT RG6 D:6.8MM | 3,84 € With VAT (20%) |
| RO-00050 | CONNECTEUR F ETANCHE A SERTIR POUR CABLE RG6 D:6.8MM | 5,48 € With VAT (20%) |
| | | |
| --- | --- | --- |
| IT-S3-0504 | PLATINE CONTROLE (I4P/I6P) ANTENNA CONTROL BOARD I4P/I6P | 712,20 € With VAT (20%) |
| RO-00106 | POTENTIOMETRE SCEW | 42,74 € With VAT (20%) |
| RO-00049 | CONNECTEUR F A VISSER ( CABLE RG6 Diam 6.8mm) CABLE RG6 Diam 6.8mm | 2,30 € With VAT (20%) |
| IT-S2-4644 | JEUX DE CABLES 4 PORT (I4) | 182,27 € With VAT (20%) |
| IT-S2-4635 | CABLE RF INTERNE (I4) | 11,52 € With VAT (20%) |
| IT-S2-4630 | CABLE FIN DE COURSE ELEVATION I4 | 11,52 € With VAT (20%) |
| IT-S2-4626 | CABLE FIN DE COURSE AZIMUT I4 | 11,52 € With VAT (20%) |
| IT-S2-4412 | COURROIE ELEVATION (I4) | 11,52 € With VAT (20%) |
| IT-S2-4411 | COURROIE AZIMUT (I4) | 11,52 € With VAT (20%) |
| IT-S2-0802 | LNB QUAD UNIVERSEL | 201,46 € With VAT (20%) |
| IT-S2-0551 | PLATINE POWER ACU (SERIE I/IW) - Replaced by | 508,74 € With VAT (20%) |
| IT-S2-0325 | GPS INTERNE (SERIE I/IW) | 128,16 € With VAT (20%) |
| IT-S2-0314 | ENSEMBLE SOUS REFLECTEUR i3/i6 I3/I6P I3/I6P | 779,08 € With VAT (20%) |
---
---
Recommended Additions