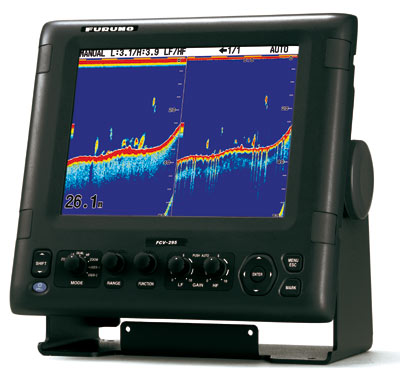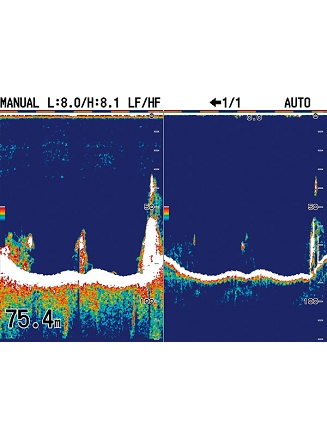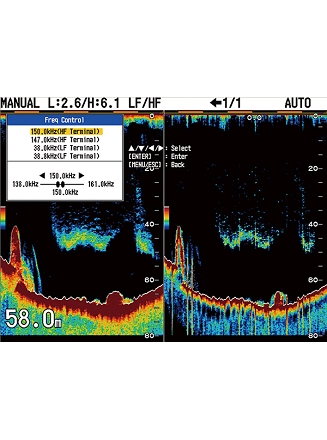 FCV295
Sounder for fishing
Ref : IMD02956001
10.4" color LCD sounder - 640x480 pixels - 1000 to 3000 W
PRICE : 3 900,00 € With VAT (20%)
Description
Quick gain control
Until now, a gain change only occurred on the echoes that appear after the adjustment. The FCV295 has a fast gain adjustment function that allows the new setting to be applied to new echoes as well as those already on the screen. This function allows a much more efficient and faster adjustment.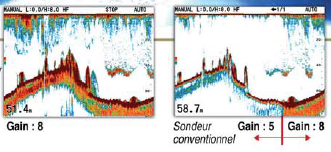 White outline
On the FCV295, the upper part of the background is displayed in white in order to discern the background of echoes close to it. Whereas with the traditional white line function, the darkest color is replaced by white, the white outline function uses background discrimination to display the white color.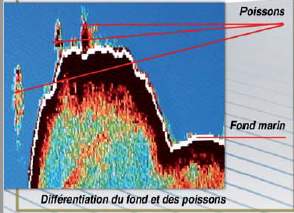 Faster transmission train for more detailed detection
On the FCV295 echo sounder, the repetition rate is increased by 30% compared to a conventional sounder. The result is a finer and more detailed image under the same conditions. The speed of transmission is greater than the shallow bottom and is adjusted according to the depth and not the selected scale.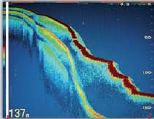 Adjustable frequency of use
Regarding the FCV295, if a Furuno probe is used, simply program it in the menu and the sounder adapts its power and frequency. The user can change this frequency at any time to refine the detection. This function is particularly interesting for boats practicing different types of fishing or in very busy areas where the interferences of the sounders of other boats can become troublesome.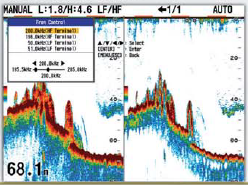 ---
Product advantages
The FCV295 is a color digital sounder designed for a variety of professional fishing operations. It features a bonded 10.4 LCD display providing superior viewing even in direct sunlight. You can display echoes in 8, 16, or 64 colors, with color assignment dependent on the strength of the returned echo.
---
Features
This color digital soundeur FCV295 is : 

10.4"bonded color LCD provides clear view in any weather conditions
Post-processing gain control applies to all existing returns on the display
FURUNO Digital Filter delivers crystal clear target presentation
---
In the box
1 X Screen
1 X Protective cover
1 X Stirrup
2 X Knobs
4 X Fuses
1 X Installation joint
1 X Cutting template for embedding
1 X Installation kit
2 X Pods
1 X Cleaning cloth
1 X Installation Manual
1 X User Manual
1 X Simplified User Guide Laminated (Multilingual)
Technical characteristics
Brightness : 450 cd/m2
Frequency : 25-52, 66-110, 140-170, 184-220 kHz
NMEA0183 : 1
Power : 1k-3k W
Power input : 12/24 V
Resolution : 640x480 Pixels
Screan size : 10.4 "
Waterproof : X5 IP

---
---
Parts and accessories
| | | |
| --- | --- | --- |
| 50BL-12HR | Furuno FRP Transducer Blt Type 50BL-12HR 2kw 50kHz No Plug | 1 740,00 € With VAT (20%) |
| 00001348600 | PR-62 ALIMENTATORE 220VAC-24V PR-62 (CHINA) AC220V-24V POWER SUPPLY UNIT | 826,56 € With VAT (20%) |
| 28F-8 | 28F-8 TRASDUTTORE 28kHz 1kW CON CAVO DA 15M NO CONNETTORE RICOPERTO IN GOMMA | 1 198,80 € With VAT (20%) |
| 88B-8 | Transducer 88B8 (1kW) - 88kHz - Rubber - cable 15m | 672,00 € With VAT (20%) |
| 88B-10 | Sonde 88B10 - 88kHz - Rubber - câble 15m | 1 098,00 € With VAT (20%) |
| 200B-5S | 200B-5S *10M* SONDE 1KW 200KHz 10M | 360,00 € With VAT (20%) |
| 200B-8B | Transducer 200B8B (1 or 2kW) - 200kHz - Rubber - cable 15m | NC |
| 50BL-24H | 50BL-24H SONDE 3KW 50KHZ 3kW 50kHZ | NC |
| 50B-6 | 50B-6 *10M* SONDE 1KW 50KHZ | 310,00 € With VAT (20%) |
| 50B-6B | 50B-6B TRASDUTTORE 50kHz 1kW CON CAVO DA 15M NO CONNETTORE RICOPERTO IN GOMMA | NC |
| 50B-9B | Transducer 50B9B - 50kHz - Rubber - cable 15m - Replaced by 00003835400 | 618,00 € With VAT (20%) |
| 200B-12H | 200B-12H *15M* SONDE 3KW 200KHz 15M 3KW 200KHz | NC |
| 28BL-6HR | Transducer 28BL-6HR - 28kHz - Plastic - cable 15m | 1 764,00 € With VAT (20%) |
| 28BL-12HR | 28BL-12HR SONDE 3KW 28KHz 15M HOUSING IN FRP | NC |
| 38BL-9HR | 38BL-9HR SONDE 2KW 38KHz 15M HOUSING IN FRP | 1 742,40 € With VAT (20%) |
| 82B-35R | Transducer 82B35R 65 to 110kHz - Rubber - cable 15m | 2 940,00 € With VAT (20%) |
| 00001509400 | 50BL-24HR SONDE 3KW 28KHz 15M 3KW 50 KHz | NC |
| 50/200-1T | Transducer 50-200-1T/ 50/200kHz/1kW/10m Plastic | 1 050,00 € With VAT (20%) |
| 50/200-12M | 50/200-12M (BRONZE) SONDE BI-FREQUENCE BRONZE 50/200KHz 1KW 12M | 1 050,00 € With VAT (20%) |
| 00001520600 | TFB-5000(1) TRAVERSEE COQUE TRAVERSEE SIMPLE COQUE FER THRU-HULL PIPE | NC |
| 00001520700 | TWB-6000(2) TRAVERSEE COQUE TRUHULL DBLE HULL IRON Nø6-2 | 950,04 € With VAT (20%) |
| 00001520900 | TFB-7000(2) TUBO PASSA-SCAFO PER DUE CAVI - NO.7 THRU-HULL PIPE | 1 068,48 € With VAT (20%) |
| 00002689300 | T-04MSB SENSORE TEMPERATURA CAVO 8M CONN 6-PIN BRONZO PASSANTE | 504,24 € With VAT (20%) |
| 00002689400 | T-04MTB SENSORE TEMPERATURA CAVO 8M CONN 6-PIN ACCIAIO DA POPPA | 184,03 € With VAT (20%) |
| 00004002700 | T-03MSB CAPTEUR TEMPERATURE BRONZE | 1 248,00 € With VAT (20%) |
| 00015403610 | MJ-A6SPF0009-100C CABLE EQUIPE DATA 6PF PLASTIC 10M | 109,20 € With VAT (20%) |
| 00015405410 | Data cable (6PF<->Nu) 5m | 38,40 € With VAT (20%) |
| 00116415010 | ST-02MSB SENSORE VEL/TEMP BRONZO PASSANTE CAVO 9M CONNETTORE 6-PIN | 398,33 € With VAT (20%) |
| 00116416010 | ST-02PSB SENSORE VEL/TEMP PLASTICA PASSANTE CAVO 9M CONNETTORE 6-PIN | 210,00 € With VAT (20%) |
| R399 | R399 SONDE INT FIBRE 2-3KW MOD. FREQ./P/XID 15M R399 | 3 200,00 € With VAT (20%) |
| B260 | B260 DT TRANSDUCER 50/200Khz 1KW 50-200KHZ/P-T/XID/10M+SAB AVEC SABOT | 1 554,00 € With VAT (20%) |
| 00001521800 | TRB-1100(2) THRU-HULL PIPE | NC |
| 00001520500 | TFB-4000(1) TUBO PASSA-SCAFO PER UN CAVO - NO.4 THRU-HULL PIPE | NC |
| 00004002600 | T-02MTB TEMPERATURE SENSOR | NC |
| 00004004000 | T-02MSB CAPTEUR DE TEMPERATURE | NC |
| 00001507300 | 68F-30H TRANSDUCER | NC |
| 00001506800 | 88F-126H TRASDUTTORE 88kHz 5kW CON CAVO DA 15M NO CONNETTORE RICOPERTO IN GOMMA | NC |
| 00124044000 | COSPEVVSBC 2PX0.2LF 2 PAIR CABLE *5M* 14S4231-0 | NC |
| 00124046000 | COSPEVVSBC 2PX0.2LF 2 PAIR CABLE *10M* 14S4231-0 | NC |
| 00001348400 | PR-62 (CHINA) ALIMENTATION AC/DC AC100V | NC |
| 00124047000 | COSPEVVSBC 2PX0.2LF 2 PAIR CABLE *15M* 14S4231-0 | NC |
| 00001503000 | 200B-8 *10M* TRANSDUCER | NC |
| 00001509200 | 38BL-15HR Sonde 38kHz FRP ; 3 KW HOUSING IN FRP | NC |
| | | |
| --- | --- | --- |
| 00104723000 | 02P6351 PNL PLATINE FCV295/1150 | NC |
| 10034171110 | 02-157-1002-1 CACHE VIS FCV1150/FCV295/M1835 | 14,14 € With VAT (20%) |
| 00014051310 | RK117111400X POTENTIOMETRE 10K | 26,28 € With VAT (20%) |
| 00111884000 | 02-157-1008/#6601-P BOUTON ROTATIF C CV-1150 | 39,74 € With VAT (20%) |
| 00111881000 | 02P6351A PNL PLATINE FCV-1150 SP | 412,90 € With VAT (20%) |
| 00107541000 | 02P6349 MAIN PLATINE FCV295 - Replaced by 00151947000 | 1 224,12 € With VAT (20%) |
| 00104724000 | 02P6350 PWR PLATINE FCV295/1150 - Replaced by 00148196000 | 1 704,58 € With VAT (20%) |
| 00103422000 | NL6448BC33-64F W/FIL LCD & FILTRE FCV295 - Replaced by 00137891000 | 2 258,78 € With VAT (20%) |
| 00103346000 | 02-157-1004/#6601-P BOUTON ROTATIF A CV-1150 | 25,50 € With VAT (20%) |
| 00102645000 | KNOB(N2.5) MOLETTE ETRIER MFDBB | 37,48 € With VAT (20%) |
| 00017342610 | SRBV170501 COMMUTATEUR ROTATIF FCV295/1150 | 19,70 € With VAT (20%) |
| 00016727410 | 734206-1JP-#18-L50 CONNECTEUR 02S6044-0 | 62,93 € With VAT (20%) |
| 00016496710 | 734-210 CONNECTEUR WAGO 10PF | 33,61 € With VAT (20%) |
| 00015773610 | FS50UM-3 B00 TRANSISTOR MOSFET FCV295/1150 | 29,36 € With VAT (20%) |
| 00014888412 | 231-303/026-FUR | 13,25 € With VAT (20%) |
---
---
Recommended Additions