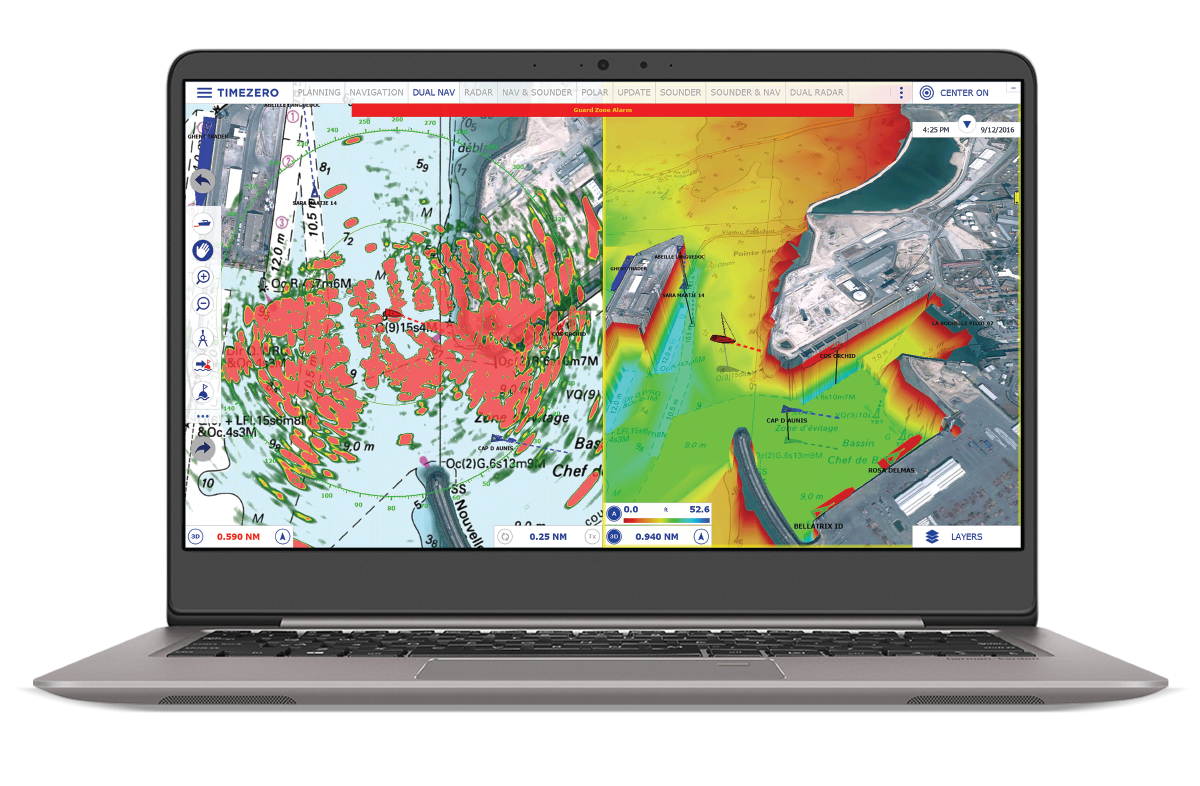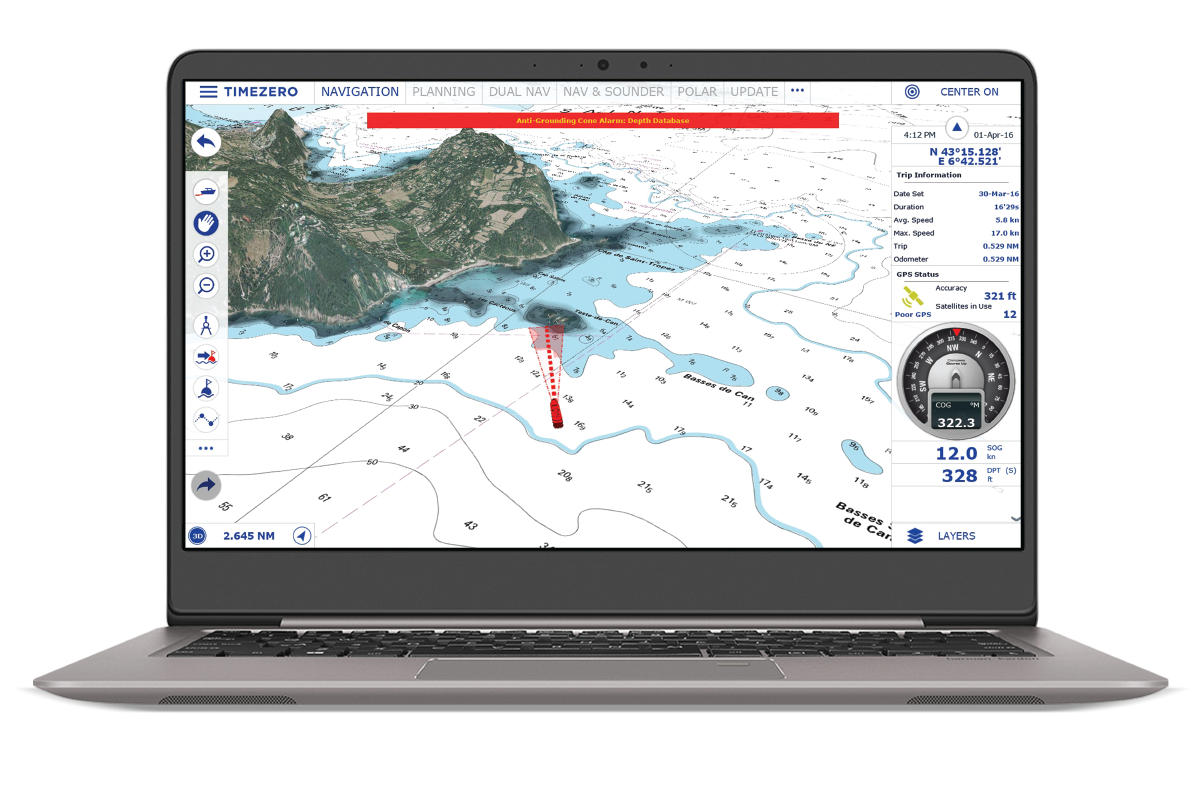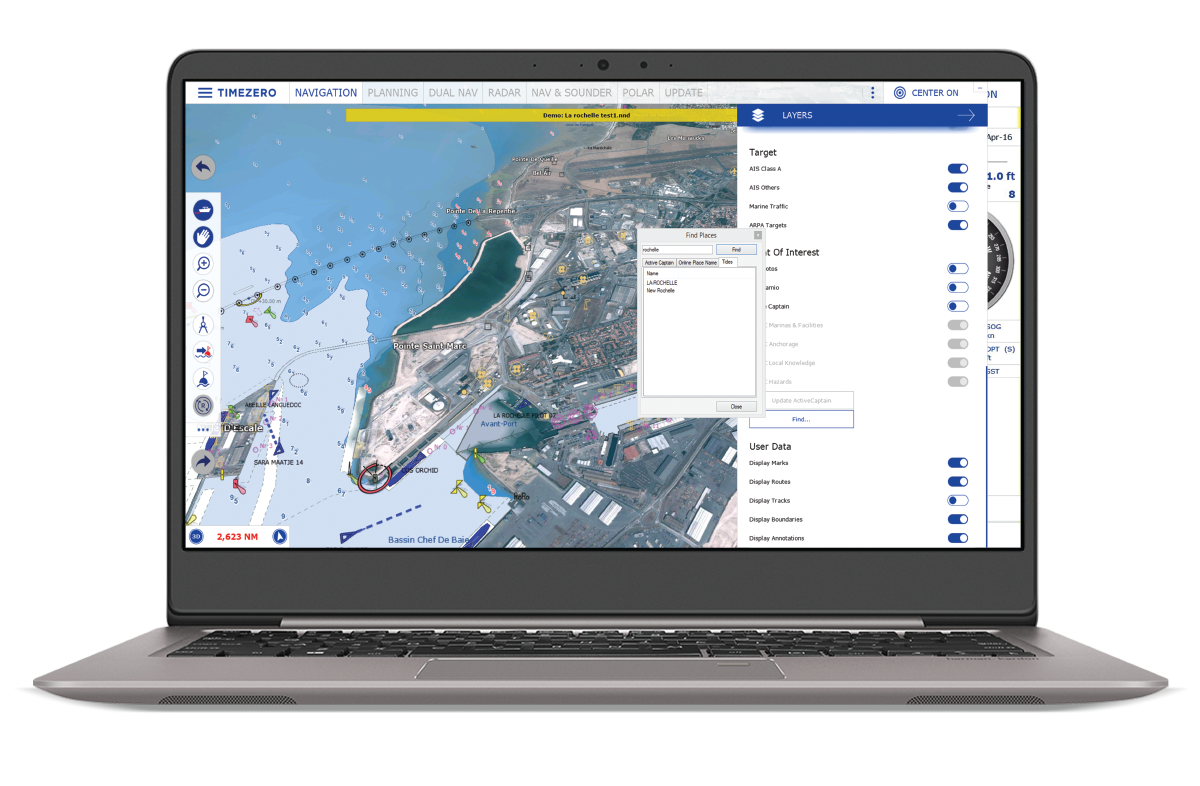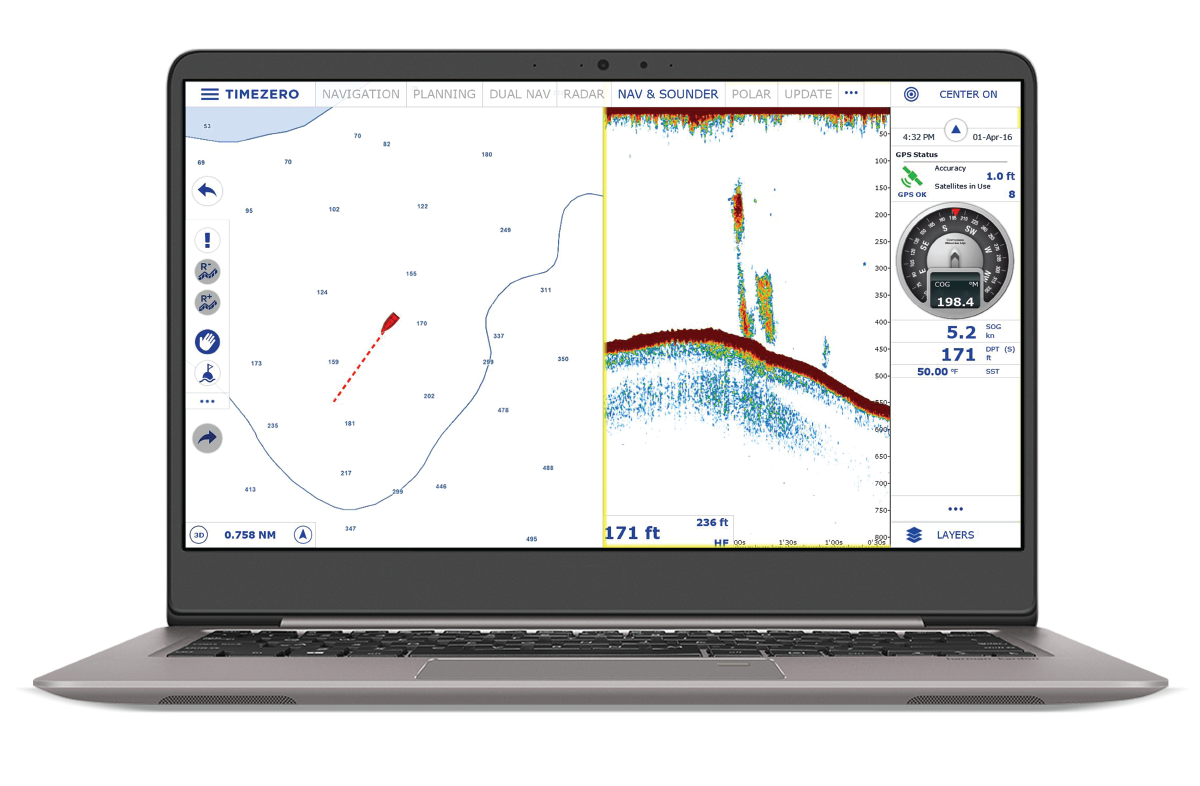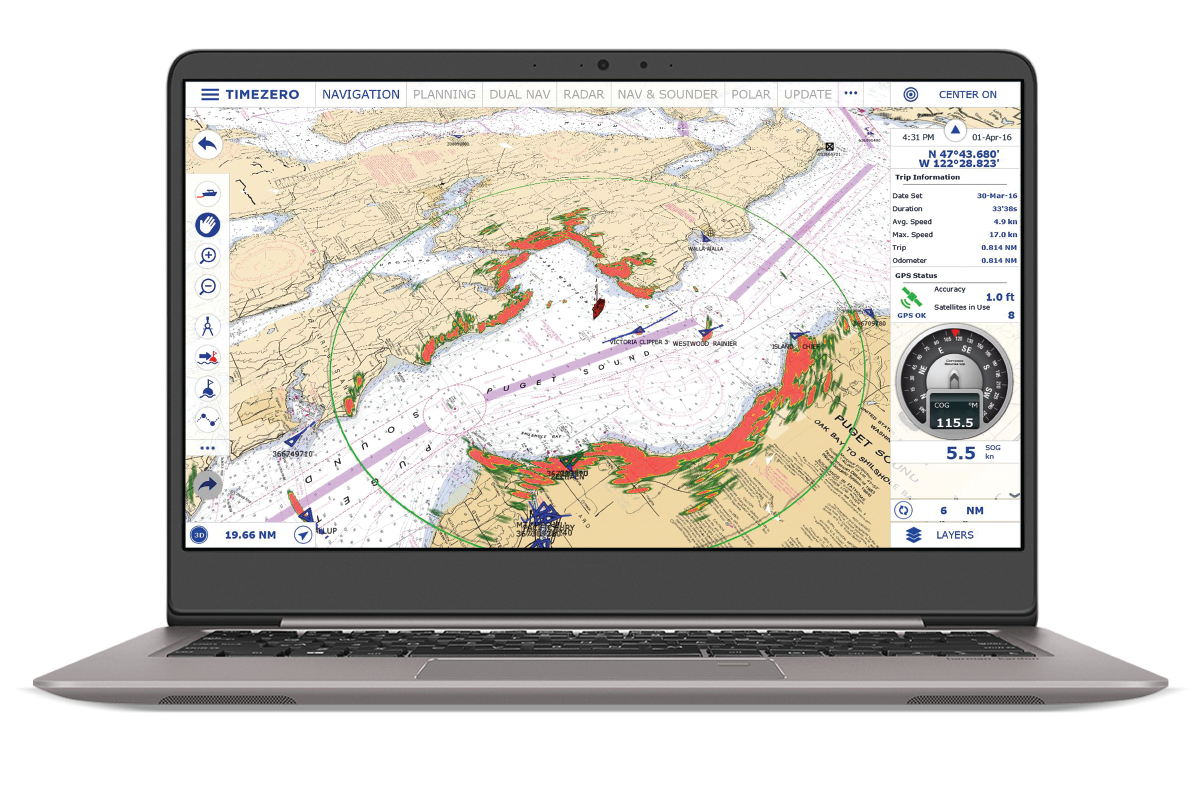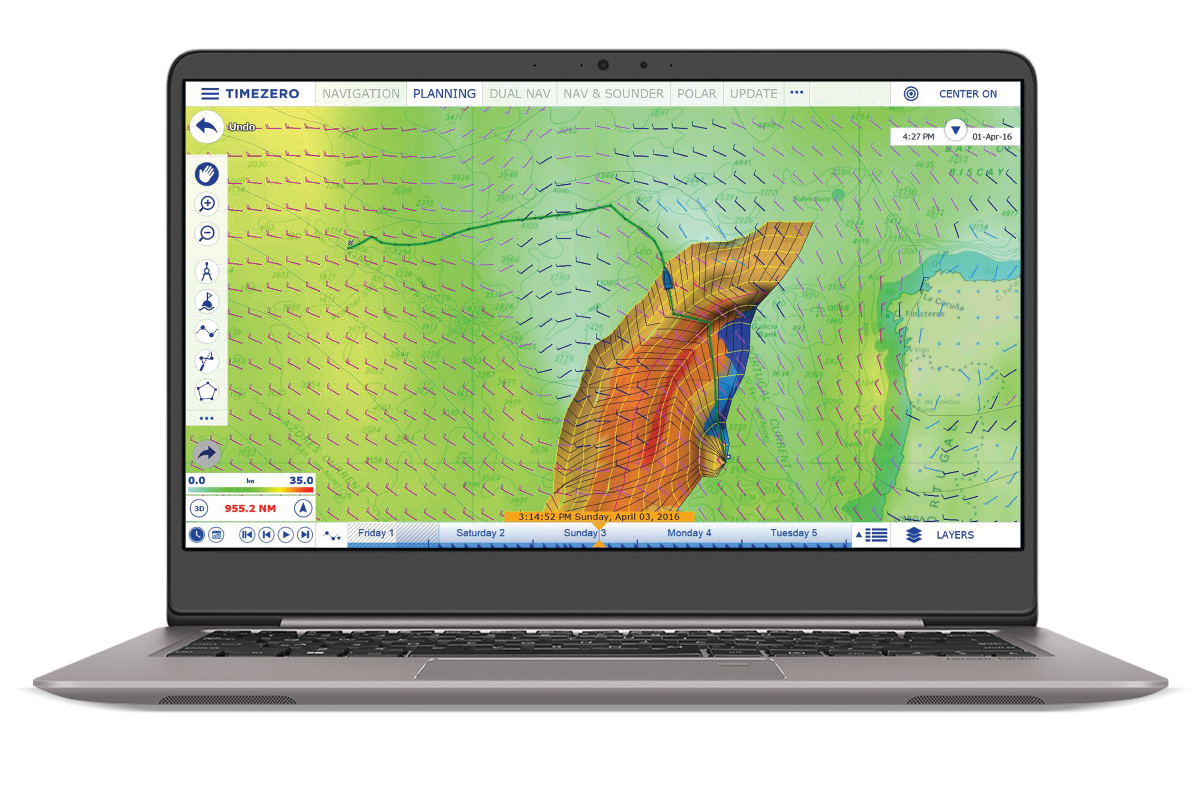 TZ NAVIGATOR
TIMEZERO
Ref : MS-NAVIGATOR
TZ Navigator: recreational software that fits all types of marine navigation
Description
mm3d charts
Have the world at your fingertips thanks to the mm3d charts catalog compatible with TZ Navigator. Its worldwide coverage is available with raster charts and vector charts (C-MAP and Datacore by Navionics). In addition, the TIMEZERO technology integrate an unparalleled chart engine where marine charts, 3D data and satellites photo are wisely mixed through PhotoFusion.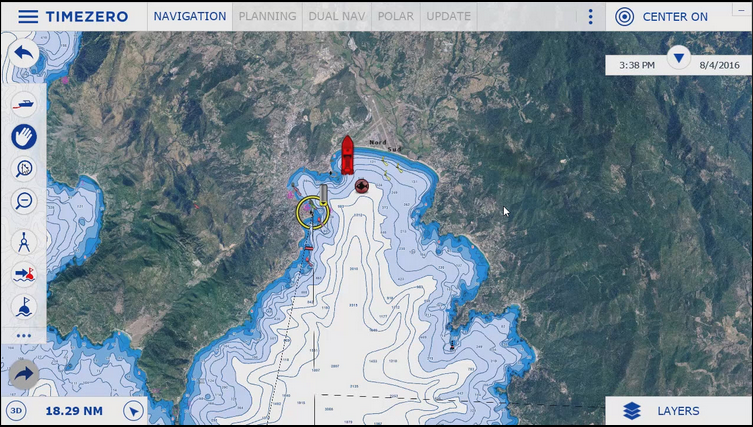 Weather Forecast
Enjoy our free Weather Forecast and tide database wherever you are navigating around the world.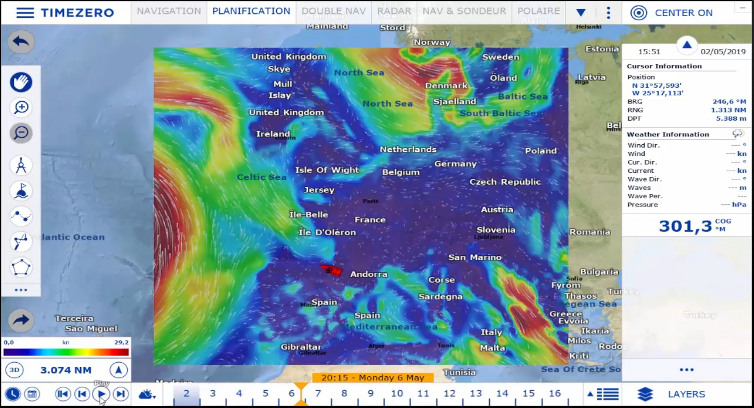 Route Planning Wizard
The Route Planning Wizard allows you to compute departure time according to various conditions (Tides, Currents, Transit Time, etc.). Arrive at high tide or leave the harbor with optimal currents conditions has never been this easy!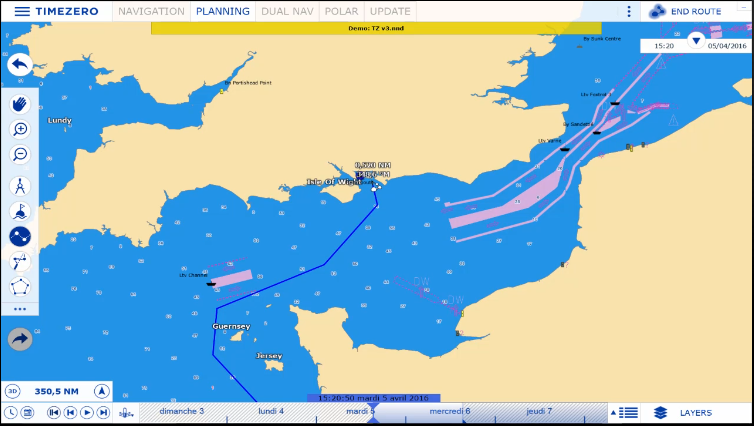 Security cone
The new security cone is a feature in adherence with the official rules of the IMO. It takes into account the information of vector charts in order to detect isolated dangers and shallow areas. If an obstacle is detected inside this cone in front of the boat's trajectory, an anti-grounding alarm will automatically be triggered.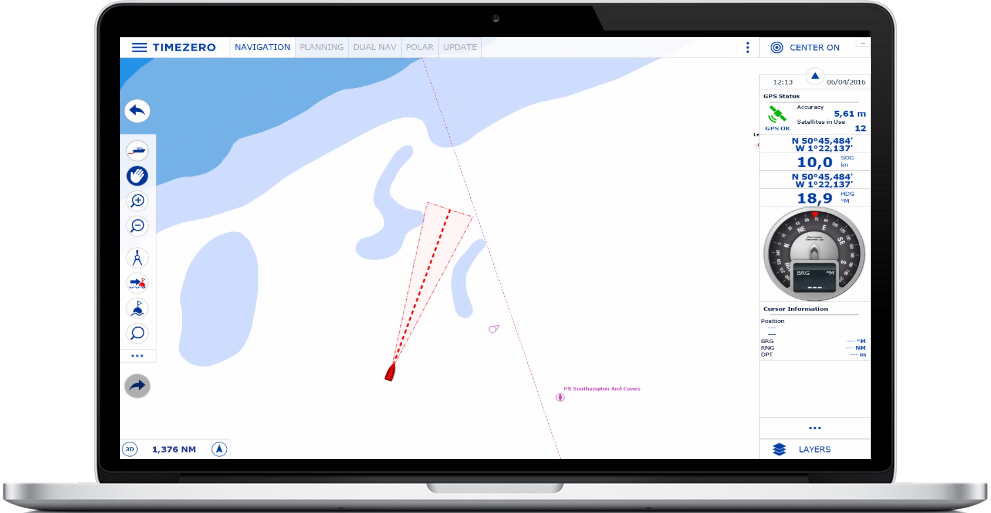 Odometer NavData
In addition, our new Odometer NavData will automatically display your trip information including Duration, Distance, Max Speed and Average speed.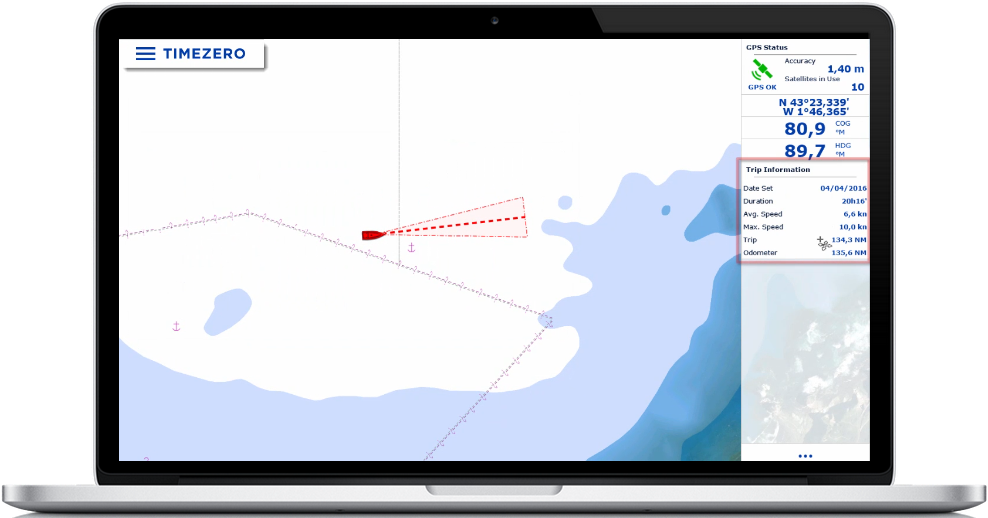 ---
Product advantages
TZ Navigator: recreational software that fits all types of marine navigation
TZ Navigator software has been designed to answer the navigation needs and requirements of recreational sailors. With features that are truly cutting-edge, it is a software that takes you from cruising with your powerboat or yacht, to racing in regattas. TIMEZERO software has two main objectives: Supreme control and comfort. Discover in this section how TIMEZERO software caters to your needs no matter your marine navigation type.


What can TZ Navigator do for you?

Sailing types vary enormously and depending on whether you want to cruise or relax in your powerboat or yacht, or race in regattas, you will of course have requirements that are unique to that particular type.

Whilst safety and ease of use remain the keystone for every sailor, other requirements such as route planning, AIS features, radar overlay and fish finder are vital for some and less so for others.

That's why we invite you to visit the following section that will help you to find the best fit for your sailing type.

Furuno Advanced Compatibility

Connect directly to any Furuno NavNet system via a simple Ethernet connection. Users can easily access and control valuable information from their NavNet network, such as Radar Overlay, Waypoints and Routes directly from TZ Navigator.
---
Features
The user interface of TZ Navigator is intuitive and fully adapted to be used on touch screens! Touch screen makes your life much easier when it comes to route planning as well as all the other features which have made TIMEZERO a huge success for more than 30 years.

Explore the main features:

AIS / ARPA targets
Weather
Chart Engine
Synchronization Cloud
TIMEZERO offers a host of complementary modules that will enhance your navigation experience further through routing, the display of surrounding objects and obtaining valuable seafloor data.
Routing
Radar
Sounder
Premium Weather
TZ Navigator Features List:
https://mytimezero.com/tz-navigator/features-list
---
---
Videos
Discover TZ Navigator | Marine Navigation Software
Marine weather forecasts | TZ Navigator v4
TZ Cloud | TIMEZERO - FURUNO ecosystem
High Resolution Oceanographic Forecasts by TIMEZERO
Module Routage | TZ Navigator v4
---
Parts and accessories
| | | |
| --- | --- | --- |
| TIMEZERO NAVIGATOR WIDE | TZNAVWIDE TIMEZERO NAVIGATOR WIDE/PACK RASTER+ MM3D | 600,00 € With VAT (20%) |
| TIMEZERO NAVIGATOR MEGAWIDE | TZNAVMWIDE TIMEZERO NAVIGATOR MEGAWIDE/PACK VECTEUR + MM3D | 840,00 € With VAT (20%) |
| MS-RADAR | RADAR MODULE RADAR FURUNO AFFI.&CONT. DES RADARS DRS&FAR | 600,00 € With VAT (20%) |
| MS-SOUNDER | SOUNDER MODULE SONDEUR VIS.&CONT. ECHO FURUNO | 600,00 € With VAT (20%) |
| MS-ROUTING | ROUTING MODULE ROUTAGE TZ | 360,00 € With VAT (20%) |
| MS-TZNAVUP | TZNAVUP MAJ DE TZ V1/V2/V3 VERS TZ NAVIGATOR V4 | 180,00 € With VAT (20%) |
| MS-TZNAVREMWIDE | TZNAVREMWIDE MIGRA. V12 VERS TZ NAVIGATOR MEGAWIDE | 480,00 € With VAT (20%) |
| MS-TZNAVWS | ADDITIONAL WORKSTATION TZ NAV | NC |
---
Recommended Additions