Description
Refined antenna with high signal accuracy
The FAR-22x8/23x8 series is designed to provide clearer and more accurate radar images of the surroundings while increasing reliability and decreasing overall cost of ownership with easy maintenance.

High image quality is achieved by the signal processor inside the antenna unit directly converting analog to digital signals before sending them to the main processor unit. Signals are safely transported though the Ethernet network between the antenna and below deck processing unit.

The new antenna shape suppresses aerodynamic drag and lightens the burden on the gear box. The gear box itself has also been redesigned. Decreased aerodynamic drag and DC brushless motor result in a very durable gear box that can be used for prolonged period of time.

Installation and maintenance are now easier than ever. All components of the gear box are integrated into one block that can easily be removed from the gear box when maintenance is required. The cable to the gear box can be connected from the side of the gear box.

Automatic Clutter Elimination (ACE)
Quickly adjusts the radar image with of a single button press. When the ACE function is activated, the system automatically adjusts clutter reduction filters and gain control according to the sea and weather conditions.

Fast Target Tracking (TT)
With Fast Target Tracking™ (TT), the FAR-22x8/23x8 series provides accurate tracking information; speed and course vectors are displayed in mere seconds allowing operators to take action and avoid incidents at a very early stage.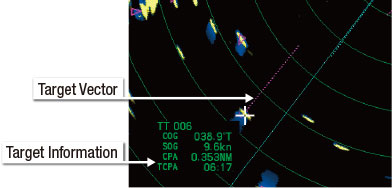 InstantAccess bar
InstantAccess bar contains shortcut menus of tasks (functions/actions) which operators frequently use, so users can quickly access necessary tasks.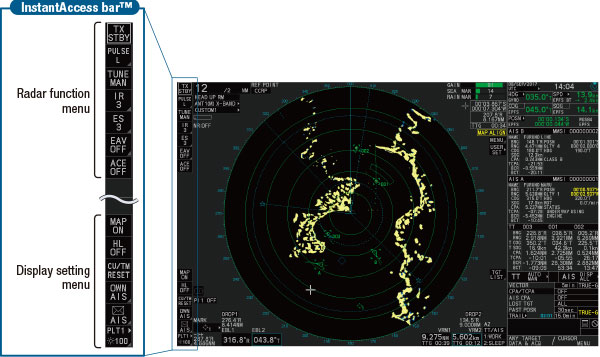 Well-designed controllers
Comfortable usability is very important on long voyages. With that in mind, these control units are designed based on ergonomics to fit the operator's hand. All operations can be controlled with the trackball.

Expandability - Ice/Oil detection Radar
FAR-22x8/23x8 series X-band radar can be used as an ice/oil detection radar by connecting a dedicated processor unit.

---
Technical characteristics
Antenna Rotation Speed : 24/42 RPM
DVI OUTPUT : 2
Power : 25k W
Power input : 100-230 V
Range : 96 NM
Resolution : 1280 x 1024/1600 x 1200/1920 x 1200 Pixels
Size : 4/6.5/8 ft

---
---
Parts and accessories
| | | |
| --- | --- | --- |
| 00148924000 | XH10P-W-5P-A L=1.5M CABLE ASSEMBLY 03S9698-1 | NC |
| 00120807000 | CP24-02920(30M) INSTALLATION MATERIALS | NC |
| 00125259000 | DSUB9P-X2-A-L10M CABLE ASSEMBLY 24S104360 | 296,32 € With VAT (20%) |
| 00003428400 | RCU-015B-S CONTROL UNIT RADAR PER FAR-2XX8 TRACKBALL CON CAVO DA 10M | NC |
| 00113296010 | DVI-D/D S-LINK 5M CABLE EQUIPE DVI 5M | NC |
| 00116789010 | MOD-Z072-050+ CAVO LAN 5M CONNETTORI RJ45/RJ45 PER HUB | 69,60 € With VAT (20%) |
| 00003329400 | HUB-3000-MIJ INTELLIGENT HUB | NC |
| 00124769000 | XH10P-W-5P-A L=10M CABLE ASSEMBLY (RCU-RCU) 03S9698-1 | NC |
| HUB-100 | HUB-100 SWITCHING HUB INTERSWITCH FAR-28X7 | NC |
| 00853563000 | FP03-09870 KIT ENCASTREMENT RCU-014/015/016 | NC |
| 00113398010 | DVI-D/D S-LINK 10M CABLE EQUIPE DVI 10M | 774,00 € With VAT (20%) |
| 00125258000 | DSUB9P-X2-A-L5M CABLE ASSEMBLY 24S104360 | NC |
| 00142121000 | SP03-17641(BOX) SPARE PARTS PSU-014/RPU-025 | NC |
| 00124770000 | CABLE ASSEMBLY (RCU-RCU) XH10P-W-5P-A L=20M 03S9698-1 - Replaced by 00159586000 | NC |
| 00124771000 | XH10P-W-5P-A L=30M CABLE ASSEMBLY (RCU-RCU) 03S9698-1 | NC |
| 00143754000 | XH10P-W-6P L=20M CABLE ASSEMBLY 03S9610-5 | NC |
| 00143755000 | XH10P-W-6P L=30M CABLE ASSEMBLY 03S9610-5 | NC |
| 00003658700 | RCU-031-E CONTROL UNIT | NC |
| 00152327000 | OP03-258-1 RP BOARD INSTALLATION KIT RPU025-E CARTE MAPMEDIA | NC |
| WV-100 WAVE ANALYZER | WV-100 WAVE ANALYZER SOFTWARE WAVE ANALYZER SOFTWARE | NC |
| 00158581000 | OP03-265 PM MODIFICATION KIT | NC |
| 00125992000 | S03-92-50(8P) SIGNAL CABLE ASSY. 03S001360 | NC |
| 00008335500 | RJB-001 JUNCTION BOX RADAR PER CAVI RADAR - | NC |
| 00149658000 | OP03-247-3 CONVERTISSEUR LAN KIT XBAND RSB-128 XBAND | NC |
| 00149690000 | OP03-252 DVI-BNC CABLE KIT RPU-025 | NC |
| 00150529000 | PERFORMANCE MONITOR FAR2218/28 PM32 KIT PER RSB-128 OP03-254-3 PM KIT X-BAND | NC |
| 00150773000 | OP03-257 ANTENNA REINFORCEMENT KIT RSB-128/130 | NC |
| 00003428600 | RCU-016B CONTROL UNIT | NC |
| 00120806000 | CP24-02910(20M) INSTALLATION MATERIALS | NC |
| 00820665000 | S03-9-10(8-8P) SIGNAL CABLE ASSY. | NC |
| 00125991000 | S03-92-40(8P) SIGNAL CABLE ASSY. 03S001360 | NC |
| 00125990000 | S03-92-30(8P) SIGNAL CABLE ASSY. 03S001360 | NC |
| 00125989000 | S03-92-15(8P) SIGNAL CABLE ASSY. 03S001360 | NC |
| 00120805000 | CP24-02900(10M) INSTALLATION MATERIALS | NC |
| 00854246000 | CP03-28901 CONNECTEUR | NC |
| 00004011000 | (Clock & Data + NMEA0183) AD100 Gyro converter | NC |
| 00853562000 | OP03-182 CLAMP ASSEMBLY RCU-014 | NC |
| HUB-3000 | HUB-3000 INTERSWITCH/HUB INTELLIGENT HUB - | NC |
| 00148947000 | OP03-245 FLUSH MOUNT KIT RCU-014B | NC |
| 00820916000 | S03-9-15(8-8P) SIGNAL CABLE ASSY. 15M | NC |
| 00820664000 | S03-9-5(8-8P) SIGNAL CABLE ASSY. | NC |
| 00125432000 | DE-ICER KIT FAR2218/FAR3210 OP03-226 DE-ICER KIT RSB-128 | NC |
| | | |
| --- | --- | --- |
| XN20CF | XN20CF 6.5FT (FAR32x0B) | NC |
| 00125988000 | RW-00135 CAVO ANTENNA 50M PER FAR-2XX8 FAR-3000 03S001351 | NC |
| XN12CF | XN12CF 4FT (FAR32x0B/FAR22X8B) | NC |
| 00125987000 | RW-00135-L40M CABLE EQUIPE SIGNAL 40M 03S001352 | NC |
| XN24CF | XN24CF 8FT (FAR32x0B) | NC |
| 00125986000 | RW-00135 CAVO ANTENNA 30M PER FAR-2XX8 FAR-3000 03S001351 | NC |
| 00125983000 | RW-00135-L15M CABLE EQUIPE SIGNAL 15M 03S001352 | NC |
---
---
Recommended Additions