Description
Automatic Clutter Elimination (ACE)
Users can quickly adjust the radar image with a single action. When Automatic Clutter Elimination (ACE) function is activated, the system automatically adjusts the clutter reduction filter and gain control according to the sea and weather conditions selected (Calm/Rough Sea/Hard Rain).

Our advanced echo averaging architecture is also incorporated into Automatic Clutter Elimination (ACE) function. Users can avoid complicated adjustment processes, resulting in clear echo images.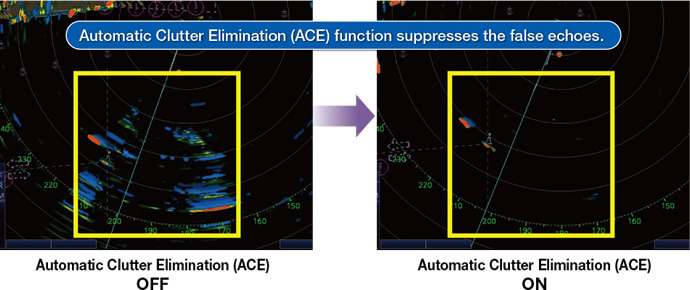 Improved Target Tracking (TT) Function
Target acquisition takes only a few seconds
Acquired target does not jump to adjacent target
Reliable and stable tracking of high-speed and rapidly maneuvering vessels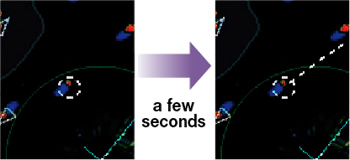 Multifunction display (MFD) capability
FURUNO offers workstations that combine flexibility and redundancy. Users may easily select ECDIS, Chart Radar, Conning display or Alert Management System at any multi-function display. Navigators will enjoy reduced workload and significant freedom to move about the bridge. All necessary information is available on a variety of displays and at locations that may be altered as required.
*Conning Information Display requires optional license key

Advanced User Inteface
The user interface of the Radar utilizes carefully organized operational tools: The Status bar and The InstantAccess bar™.
These operational tools deliver straightforward, task-based operation by which the operator can quickly perform tasks without having to navigate an intricate menu tree.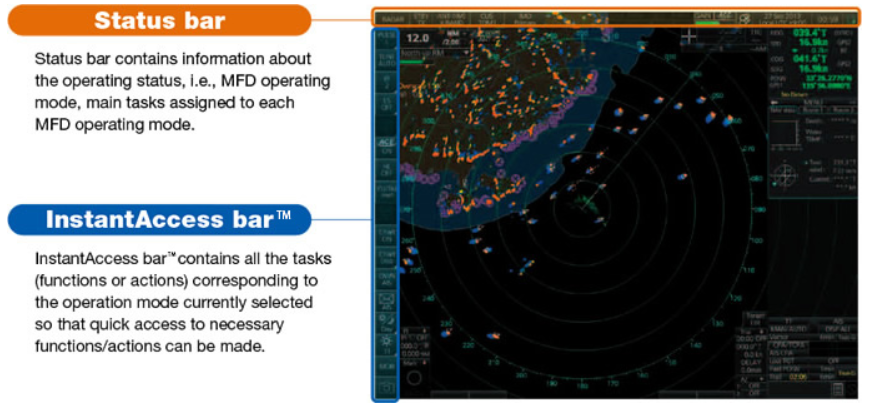 ---
Product advantages
Solid State transceiver available for 30 kW
Automatic Clutter Elimination (ACE)
Multifunction display (MFD) capability
Advanced User Interface
---
Features
Newly designed antenna scanners to suppress the aerodynamic drag and prevent a spike in temperature
Less maintenance required through use of the DC brushless motor
Ethernet network link between antenna unit and below deck processor unit
The analog signals are converted into the digital signals within the antenna unit and sent to the below deck processor unit via Ethernet network. This network technology eliminates loss of signal gain between antenna unit and processor unit that may be seen in conventional Radar system.
Optional LAN Signal Converter enables users to extend the cable between antenna unit and processor unit or to utilize the existing cables when retrofitting
---
In the box
1 x Processer Unit
1 x Control Unit
1 x Scanner Unit
Technical characteristics
Antenna Rotation Speed : 24/42 RPM
DVI OUTPUT : 3
Power : 25k W
Power input : 100-230 V
Range : 96 NM
Resolution : 1280 x 1024/1600 x 1200/1920 x 1200 Pixels
Size : 4/6.5/8 ft

---
Parts and accessories
| | | |
| --- | --- | --- |
| 00002052000 | MC-3020D ADATTATORE DIGITAL IN SENSOR ADAPTER DIGITAL IN - | NC |
| 00001363200 | PR-240 ALIMENTATORE 220VAC-24V CON INGRESSO 24V BACK-UP AC/DC POWER SUPPLY UNIT | NC |
| 00125990000 | S03-92-30(8P) SIGNAL CABLE ASSY. 03S001360 | NC |
| 00125989000 | S03-92-15(8P) SIGNAL CABLE ASSY. 03S001360 | NC |
| 00002060000 | RCU-026 TRACKBALL CONTROL UNIT - Replaced by 00002761900 | NC |
| 00002761900 | RCU-026 CLAVIER TRACKBALL FAR3000/FMD32XX/FSS3BB | NC |
| 00002059000 | RCU-024 ECDIS CONTROL UNIT - - Replaced by 00003763600 | NC |
| 00003551400 | RCU-024B UNITE DE CONTROLE - Replaced by 00003763600 | NC |
| 00118748010 | CABLE MC1.5-W-L1000 | NC |
| 00002052100 | MC-3030D ADATTATOR DIGITAL OUT SENSOR ADAPTER DIGITAL OUT - | NC |
| 00118830000 | OP24-32 CABLE ASSEMBLY | NC |
| 00113398010 | DVI-D/D S-LINK 10M CABLE EQUIPE DVI 10M | 774,00 € With VAT (20%) |
| 00124051000 | FR-FTPC-CY *10M* CABLE RESEAU LAN 4 PAIRES FEA2107<=>FAR2XX7 | NC |
| 00124052000 | FR-FTPC-CY CAVO LAN 20M ARMATO SENZA CONNETTORI RJ45 19S1029-0 | NC |
| 00124053000 | FR-FTPC-CY CAVO LAN 30M ARMATO SENZA CONNETTORI RJ45 19S1029-0 | NC |
| 00118626010 | 6TPSH-XH12X2-L5.0SP1 CABLE ASSEMBLY 24S103894 | 123,43 € With VAT (20%) |
| HUB-3000 | HUB-3000 INTERSWITCH/HUB INTELLIGENT HUB - | NC |
| 00113296010 | DVI-D/D S-LINK 5M CABLE EQUIPE DVI 5M | NC |
| 00125991000 | S03-92-40(8P) SIGNAL CABLE ASSY. 03S001360 | NC |
| 00003041000 | RU-6522 220V 50KHZ ABAISSEUR DE TENSION 220V 50HZ --> 200V 50HZ | NC |
| 00152270000 | TET-16-045A-3(L10M) CABLE ASSEMBLY 24S104940 | NC |
| 00152272000 | TET-16-045A-5(L30M) CABLE ASSEMBLY 24S104940 | NC |
| 00152269000 | TET-16-045A-2(L5M) CABLE ASSEMBLY 24S104940 | NC |
| WV-100 WAVE ANALYZER | WV-100 WAVE ANALYZER SOFTWARE WAVE ANALYZER SOFTWARE | NC |
| 00152271000 | TET-16-045A-4(L20M) CABLE ASSEMBLY 24S104940 | NC |
| 00158581000 | OP03-265 PM MODIFICATION KIT | NC |
| 00003763600 | RCU-024B CONTROL UNIT ECDIS FMD-3200 CON CAVO 20M | NC |
| 00002051800 | MC-3000S ADATTATORE SERIALE SENSOR ADAPTER SERIAL - | NC |
| HUB-100 | HUB-100 SWITCHING HUB INTERSWITCH FAR-28X7 | NC |
| 00125432000 | DE-ICER KIT FAR2218/FAR3210 OP03-226 DE-ICER KIT RSB-128 | NC |
| 00125441000 | OP03-224-3 CABLE EXTENSION KIT RSB-128 | NC |
| 00125438000 | CONVERTITORE LAN-COAX RSB-128 PER FAR-3210/3220 OP03-223-3 LAN SIGNAL CONVERT | NC |
| 00125433000 | DE-ICER KIT FAR2238/FAR3230 OP03-227 DE-ICER KIT RSB-129/133 | NC |
| 00116789010 | MOD-Z072-050+ CAVO LAN 5M CONNETTORI RJ45/RJ45 PER HUB | 69,60 € With VAT (20%) |
| 00118750010 | MC1.5-W-L3000 CABLE 24S103881 | NC |
| 00118749010 | MC1.5-W-L2000 CABLE 24S103881 | NC |
| 00118747010 | MC1.5-W-L600 CABLE 24S103881 | NC |
| 00118628010 | 6TPSH-XH12X2-L20SP1 CABLE ASSEMBLY 24S103894 | NC |
| 00111675000 | OP26-17 KIT MONTAGGIO INCASSO PER MU-231 MU-231 | NC |
| 00001627000 | MU190HD bracket | 1 074,00 € With VAT (20%) |
| 00120415000 | DVI-BNCX5-L2000 CABLE EQUIPE 24S104180 | 267,17 € With VAT (20%) |
| 00003049700 | RU-3424 ALIMENTATION AC/DC 220VAC--->24V | 1 984,80 € With VAT (20%) |
| 00003045300 | RU-5466-1 ABAISSEUR DE TENSION AC440V-AC220V | 1 372,80 € With VAT (20%) |
| 00003045600 | RU-5693 STEPUP TRANSFORMER UNIT AC110V-AC220V | NC |
| 00118627010 | 6TPSH-XH12X2-L10SP1 CABLE ASSEMBLY 24S103894 | NC |
| 00118632010 | 6TPSH-XH12X2-L10SP2 CABLE ASSEMBLY 24S103894 | NC |
| 00108093000 | HOOD ASSEMBLY OP26-6 MU-190HD/190 | 723,60 € With VAT (20%) |
| 00118633010 | 6TPSH-XH12X2-L20SP2 CABLE EQUIPE 20M FOR TRACKBALL RCU-026 | 655,20 € With VAT (20%) |
| 00118629010 | 6TPSH-XH12X2-L30SP1 CABLE ASSEMBLY 24S103894 | NC |
| 00008335500 | RJB-001 JUNCTION BOX RADAR PER CAVI RADAR - | NC |
| 00118634010 | 6TPSH-XH12X2-L30SP2 CABLE EQUIPE 30M FOR TRACKBALL RCU-026 | 1 055,88 € With VAT (20%) |
| 00118631010 | 6TPSH-XH12X2-L5.0SP2 CABLE ASSEMBLY 24S103894 | NC |
| 00854246000 | CP03-28901 CONNECTEUR | NC |
| 00125259000 | DSUB9P-X2-A-L10M CABLE ASSEMBLY 24S104360 | 296,32 € With VAT (20%) |
| 00125258000 | DSUB9P-X2-A-L5M CABLE ASSEMBLY 24S104360 | NC |
| 00111674001 | OP26-16 HOOD ASSEMBLY MU-231/NEW | NC |
| 00118826000 | DSUB9P-X2-L5M CABLE ASSEMBLY 24S103930 | NC |
| 00120790000 | DSUB9P-X2-L10M-WP CABLE ASSEMBLY 24S10419 | NC |
| 00120807000 | CP24-02920(30M) INSTALLATION MATERIALS | NC |
| 00120806000 | CP24-02910(20M) INSTALLATION MATERIALS | NC |
| 00120805000 | CP24-02900(10M) INSTALLATION MATERIALS | NC |
| EXU00001007 | CONNING FUNCTION ACTIVATE FILE | NC |
| 00120789000 | DSUB9P-X2-L5M-WP CABLE ASSEMBLY 24S10419 | NC |
| 00125992000 | S03-92-50(8P) SIGNAL CABLE ASSY. 03S001360 | NC |
| 00123532000 | SP24-00801(BOX) SPARE PARTS HUB-3000 | NC |
| 00003044800 | RU-3305 FOR DE-ICER TRANSFORMATEUR 220VAC-->100VAC | 1 043,28 € With VAT (20%) |
| 00003042000 | RU-1803, 700DOT8-6 STEPDOWN TRANSFORMER UNIT AC440V-AC110V | NC |
| 00002051900 | MC-3010A ADATTATORE ANALOGICO SENSOR ADAPTER ANALOG - | NC |
| 00003043900 | RU-1746B2 ALIMENTATION AC/DC 220VAC --> 24VCC 13 AMP | NC |
| 00118827000 | DSUB9P-X2-L10M CABLE ASSEMBLY 24S103930 | NC |
| 00111628000 | OP26-12 KIT MONTAGGIO INCASSO PER MU-190 MU-190 | 224,64 € With VAT (20%) |
| 00111673000 | OP26-15 STAFFA PER MU-231 KIT MONTAGGIO SU STAFFA TAVOLO MU-231 | NC |
| 00111674000 | OP26-16 HOOD ASSEMBLY MU-231 | NC |
| | | |
| --- | --- | --- |
| XN24CF | XN24CF 8FT (FAR32x0B) | NC |
| 00125983000 | RW-00135-L15M CABLE EQUIPE SIGNAL 15M 03S001352 | NC |
| 00125986000 | RW-00135 CAVO ANTENNA 30M PER FAR-2XX8 FAR-3000 03S001351 | NC |
| 00125987000 | RW-00135-L40M CABLE EQUIPE SIGNAL 40M 03S001352 | NC |
| 00125988000 | RW-00135 CAVO ANTENNA 50M PER FAR-2XX8 FAR-3000 03S001351 | NC |
| XN12CF | XN12CF 4FT (FAR32x0B/FAR22X8B) | NC |
| XN20CF | XN20CF 6.5FT (FAR32x0B) | NC |
---
Recommended Additions