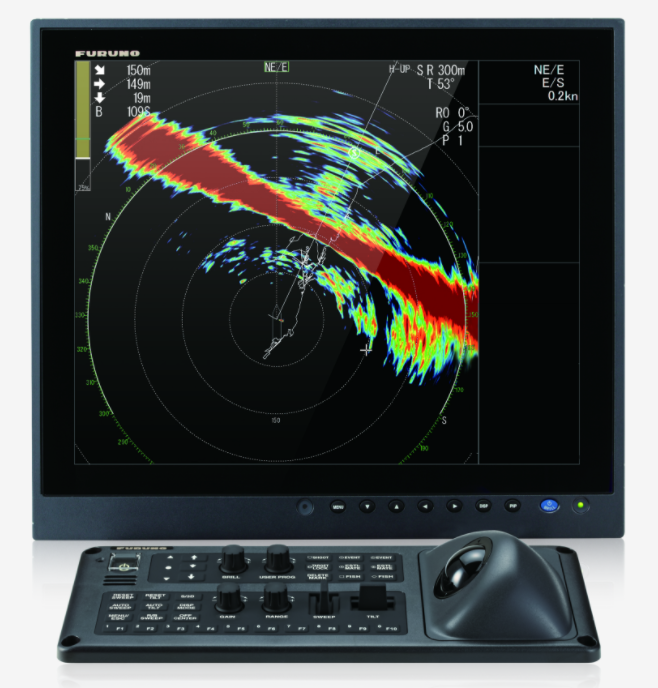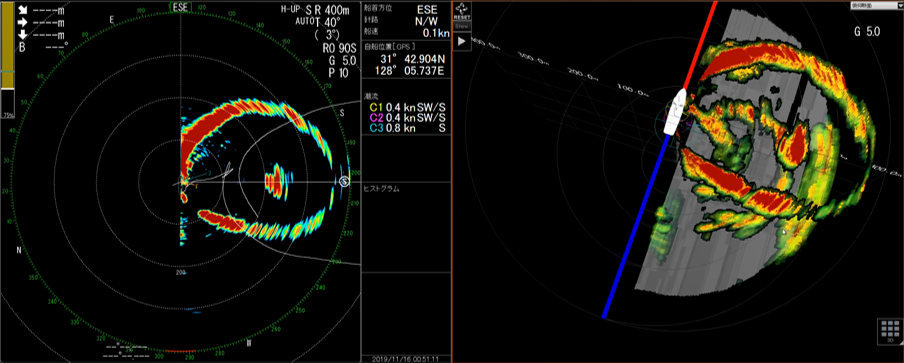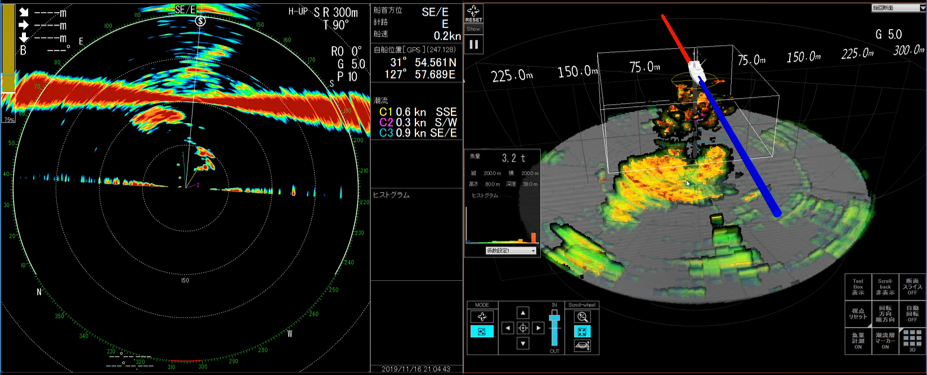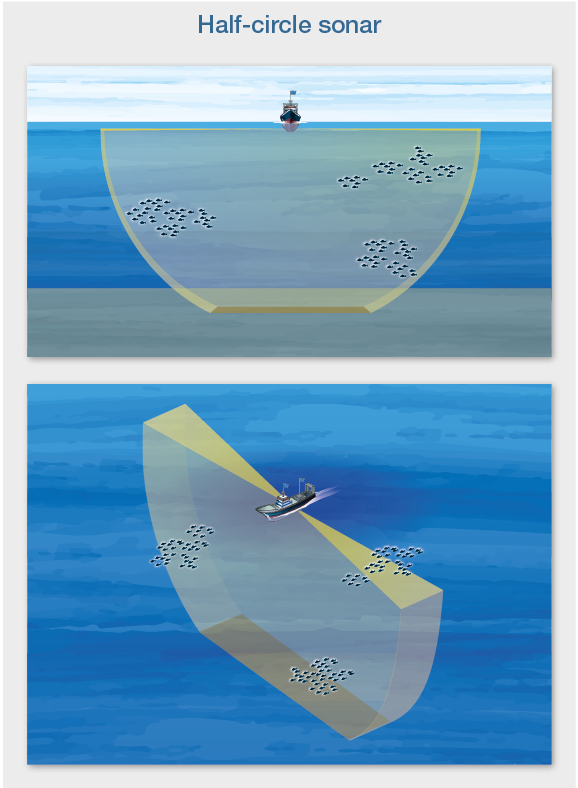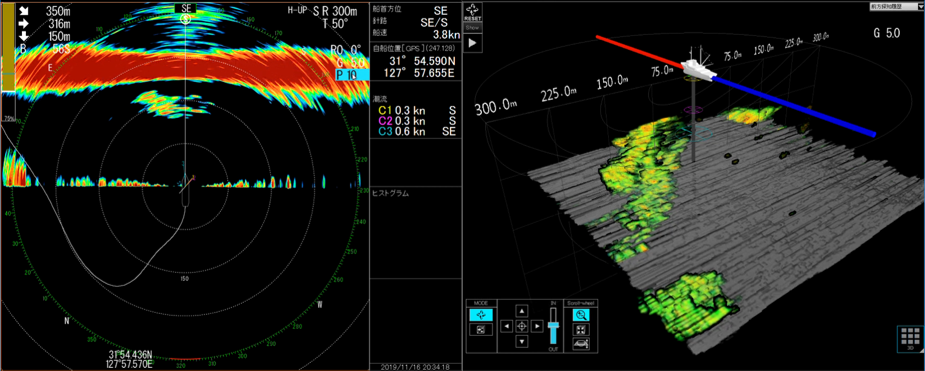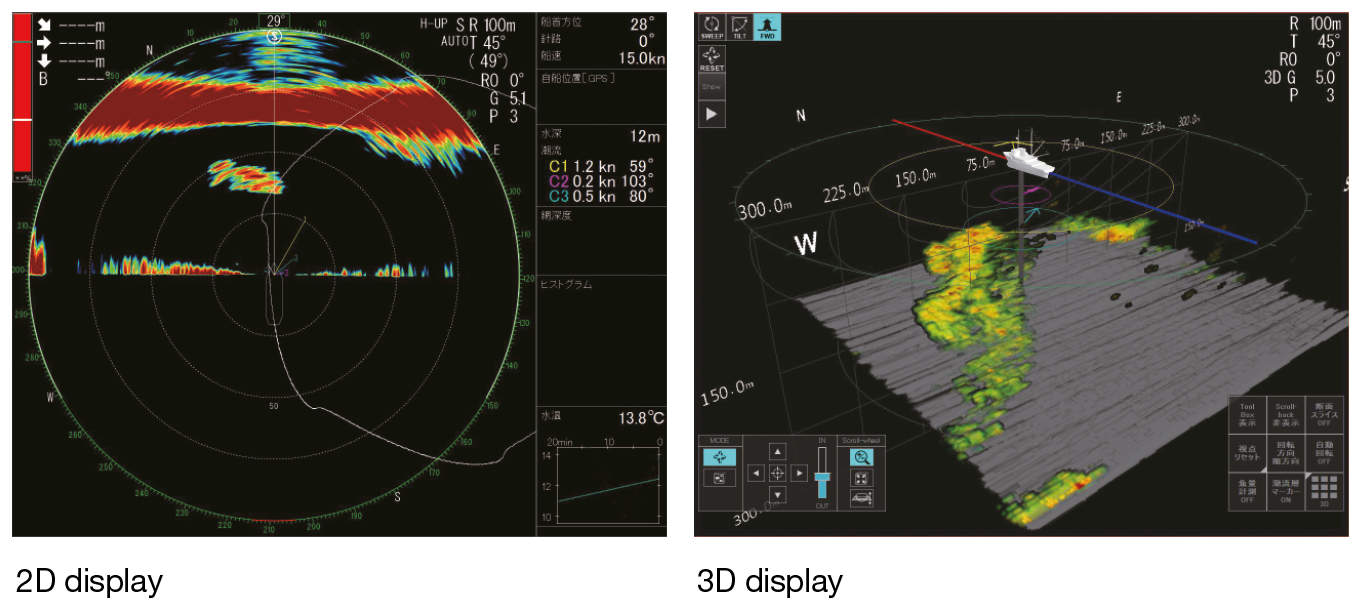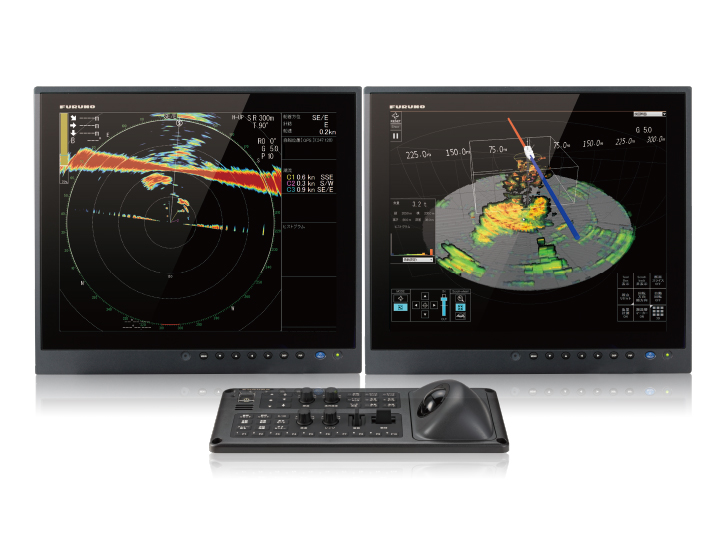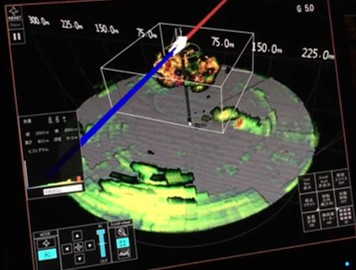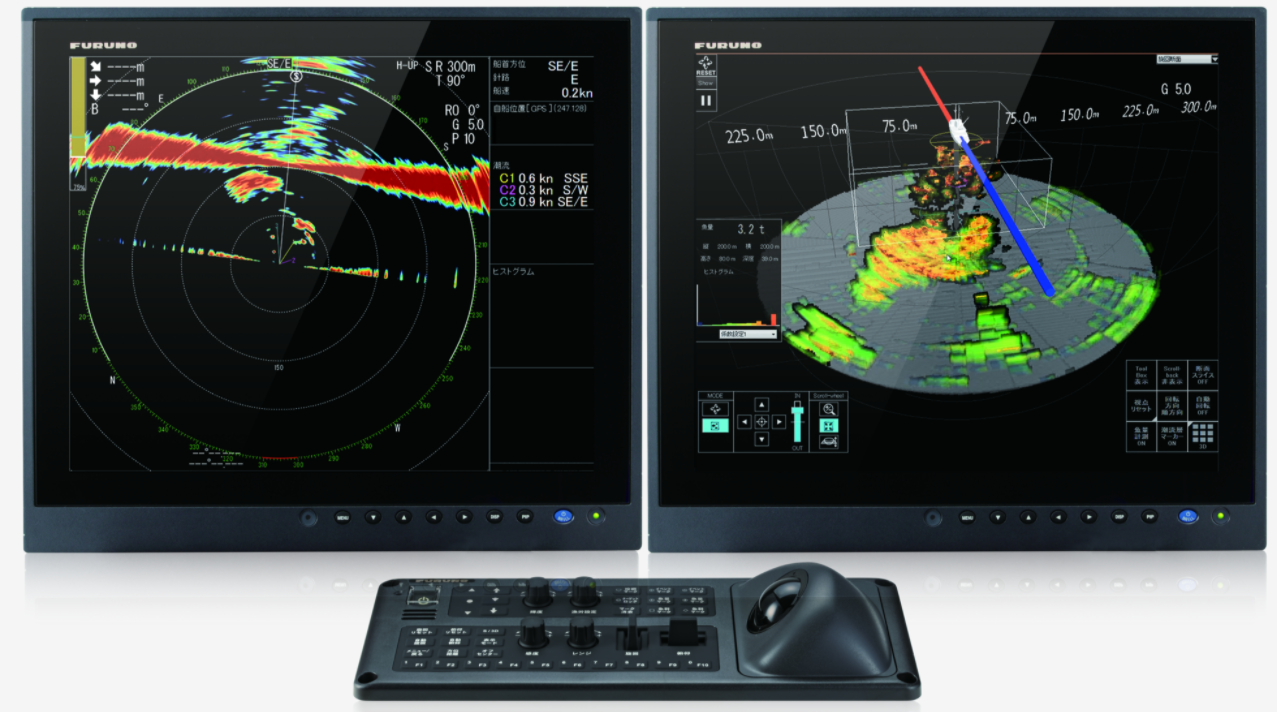 FSV75
Fishing sonars
Ref : IMD02333001
The most advanced half-circle sonar 180kHz for shallow water detection with unparalleled 3D image detail
PRICE : NC
Description
3 TECHNIQUES TO NOT LOSE ANYTHING
A unique fan-shaped beam for a wide scanning area and high operating frequency (180kHZ)
wider scanning area, from the sea surface to the sea floor, together with an impressive resolution that guarantees exceptional target separation, identification of fish near the bottom and better tracking accuracy
Improved and wider detection range

High sweep, tilt and transmission speed
from port to starboard in just 8 seconds - ideal for tracking fast fish such as tuna and skipjack
MAXIMUM EFFICIENCY WITH 3D FUNCTIONS
FSV-75 support dual-monitor configuration to reach the maximum performance.
You can dedicate one display to the 3D functions, and the other for conventional representation.

Mainly, there are five kinds of 3D mode, detailed below
3D SWEEP CROSS-SECTION
Cross-section scanning with fixed tilt at 90° and auto sweep - useful for searching and identifying the position of fish schools.
3D TILT CROSS-SECTION
Fixed sweep direction & moving tilt angle automatically - useful for viewing the shape of the net and position of the schools of fish within it (particularly useful for purse seine technique)
3D FORWARD DETECTION - HISTORY
Frontal scan, in front of the boat, with fixed sweep direction and tilt angle, with a representation of the history of previous scans behind the boat; useful for both analyzing the bottom profile and searching for schools of fish
3D DENSITY CALCULATIONS
creates an area, a virtual basket, and provides an estimate of the volume of fish within it (total weight of the fish and distribution); it helps to understand the right moment of fishing by maximizing time and efficiency
3D CROSS-SECTION SLICE
Allows you to view the echo of the cross section on a vertical or horizontal plane
STABILITY AND SAFETY
Tank guide - robust anti-vibration mechanism guarantees maximum performance and stability
Faster movement of hull unit (just 11 seconds to withdraw the transducer) combined with the position indicator for maximum safety
Possibility to stop the ascent of hull unit in any desired position
Internal SSD memory to ensure greater stability and durability
CUSTOMIZATION AND OPERABILITY
10 buttons dedicated to operator functions, can be programmed according to needs
Dedicated buttons for Tilt and Sweep reset to 0°
Gain adjustable in 0.1 steps for a total of 100 levels
Pulse lenght and TX power adjustable by the user
ADDITIONAL FUNCTIONS
Specific functions for seabed detection includes:




-seabed color ON/OFF: in order to make seabed in gray color




-detection threshold: when the detected color level is higher than the threshold, it is recognized as seabed





Auto target lock




Automatic tracking function of the fish school to never lose sight of it and get the best results
Save-Replay and sharing




It is possible to save images and information to be able to review them later and analyze them with greater care.




It is possible to save the settings on a USB key to be able to share and upload them to other ships in the fleet
---
Product advantages
The main strenght of FSV-75 is the high detection precision of fish close to the seabed.
In specific, in addition to conventional fish species, it has an impressive detection accuracy of fishes without the swim bladder.
The added value of FSV-75 is the detection accuracy of small school of fish near the seabed, that are hard to see with conventional full-circle scanning sonar; indeed at short range half-circle sonars can swipe faster than full-circle sonars.
---
Features
Scanning : Full digital beam forming

Frequency : 180 kHz

Basic Range : 50 - 2000m 

Audio Search : 1 kHz , 10 W (optional speaker required)

Resolution : SXGA 1280×1024 

Colors : 32 colors (sonar pictures), 6 colors (marks)

Display mode : Slant, Vertical combination scan, Echo sounder combination, Vertical and echo sounder combination

3D Display mode : 3D single, 3D combination, 3D sounder combination

Ports :

Video output: 2 ch, HDMI, SXGA

NMEA0183 x 5 ch (V1.5/2.0/3.0/4.0/4.1)

External KP x 1 ch, current loop or contact closure

Voice output x 1 ch, 10 W, 4 ohms, monaural

Gyrocompass: 1 ch, AD-10

Echo sounder input: 1 ch, VI-1100A analog

Contact closure x 1 ch, for external switch

USB x USB2.0 x 2 ch, USB3.0 x 2 ch

LAN x 2 ch, Ethernet, 1000Base-T
---
In the box
1 x Processor unit
1 x Control unit
1 x Transceiver unit
1 x Hull unit
1 x Matching bos
---
Videos
Furuno Half-circle Sonar FSV-75_3D mode
---
---
Downloads
---
Recommended Additions