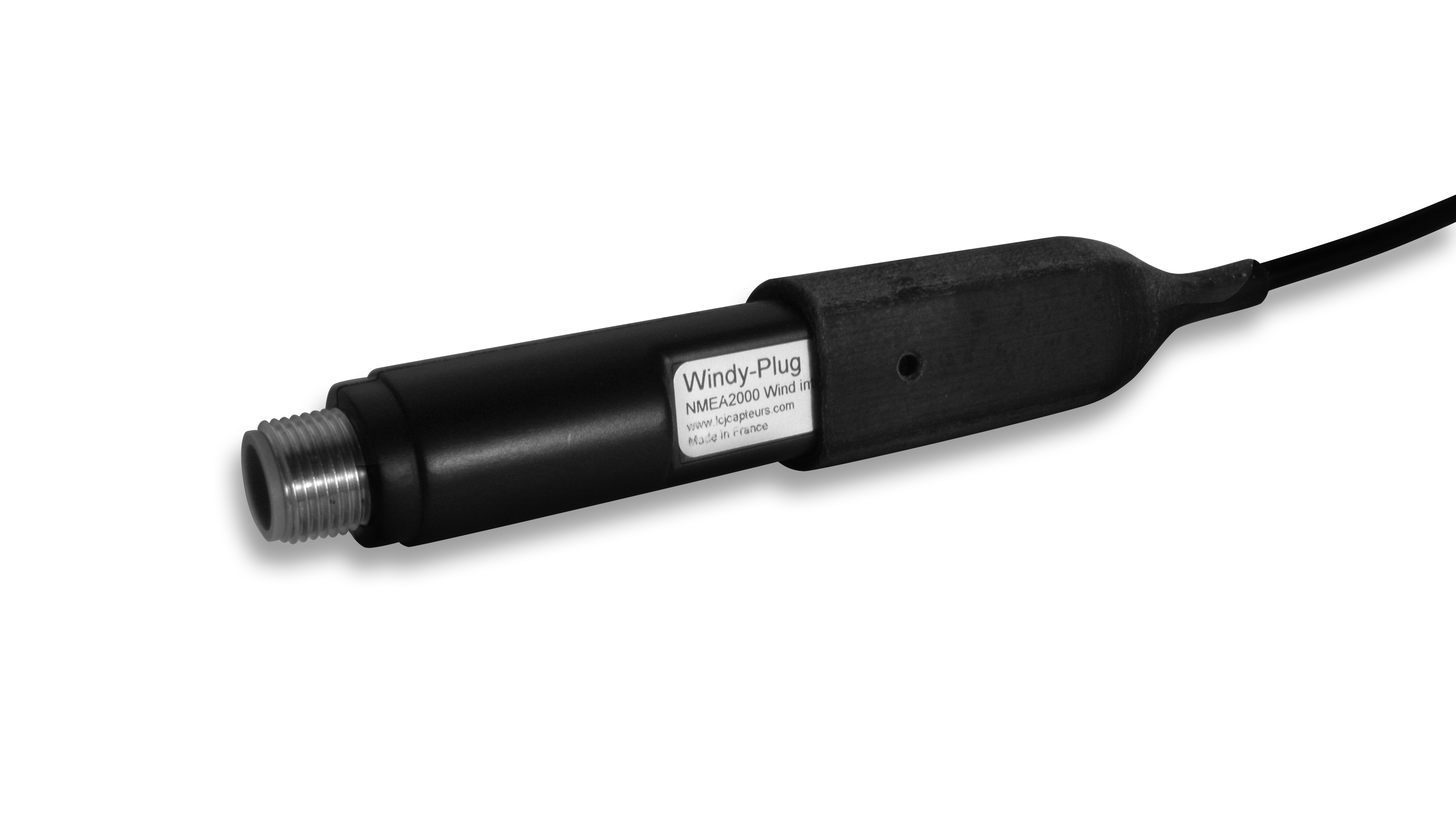 WINDYPLUG
Wind and weather sensors
Ref : LC-WINDYPLUG
WINDYPLUG INTERFACE CANBUS AVEC BARO POUR CAPTEURS VENT
PRICE : 186,00 € With VAT (20%)
---
Product advantages
WindyPlug NMEA 2000 interface for Wind Sensors, smaller, cheaper with embedded barometer.
WindyPlug NMEA2000 is a BaroPlug with an interface to connect anu of our Ultrasonic Wind Sensors to a NMEA2000 system.
It features a MICRO C male plug to connect directly to the NMEA 2000 bus. This is a Plug and Play device : Just install the sensor or your NMEA system's backbone to read atmospheric pressure, wind speed, wind angle, wind temp.
This new NMEA 2000 interface for Wind Sensors WindyPlug NMEA2000 weights 35 gr and measures 13 cm long for less than 2 cm diameter.
The measurement is displayed a resolution of millibar or one-tenth millibar (mb). It's also available in inches of mercury. It measures the pressure from 850 hPa to 1150 hPa to one decimal resolution and sends the relevant pgn to the NMEA network.
The interface connects to the end CV7, CV7-V or CV7-C standard cable.
This method simplifies the installation with a lightweight, flexible and small diameter cable in the mast.
---
Features
The WindyPlug is new NMEA 2000 interface for Wind Sensors : 

Transmitted data : Atmosperic pressure, wind speed, wind angle, wind temp
Dimensions: L 135 mm X Ø 17.5 mm
Weight: 35 g
Connector: MICRO male NMEA2000
Power supply: via NMEA2000 network. 8V / 28VDC
Consumption: 1 LEN / <50mA
Operation indicator: 1 flashing LED
Hydrophobic membrane for pressure sensor
Pressure's measure range: 850 hPa / 1150 hPa
Resolution:
1 hPa (mbar) with MEA2000 Version 2 systems 0.1 hPa (mbar) with NMEA2000 Version 3 systems
Relative accuracy: +/- 0.5 hPa @ 20°C
Absolute accuracy : +/- 1.5 hPa @ 20°C
Data:
NMEA2000 V2 PGNs:
-TX: 59392; 60928; 126464; 126996; 130306; 130311
-RX: 59392, 59904; 60928; 130315
NMEA2000 V3 PGNs:
-TX: 59904; 60928; 126464; 126996; 130306; 130312; 130314
-RX: 59392; 59904; 60928; 130315
---
In the box
1 X WindyPlug NMEA2000
1 X Installation manual
Technical characteristics
Barometer : YES
Brand : LCJ
Dynamics of the wind module : 0.25-80 Nds
NMEA2000 : 1
Power input : 12 V
Type : Other

---
Downloads
---