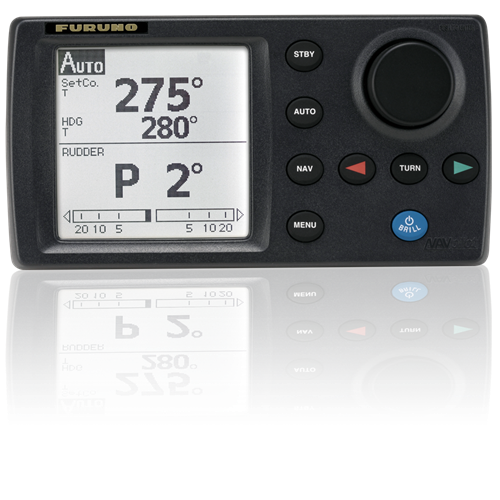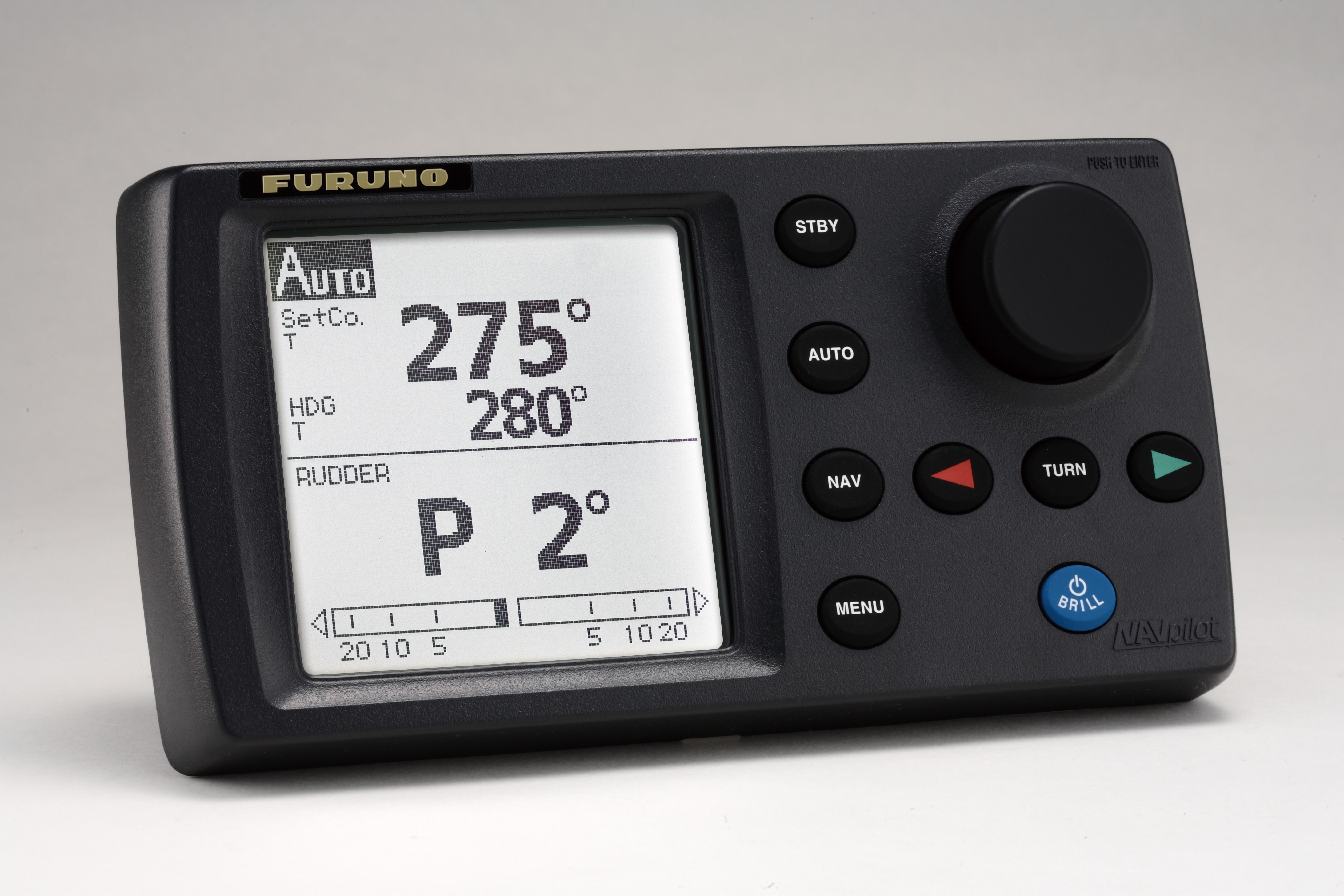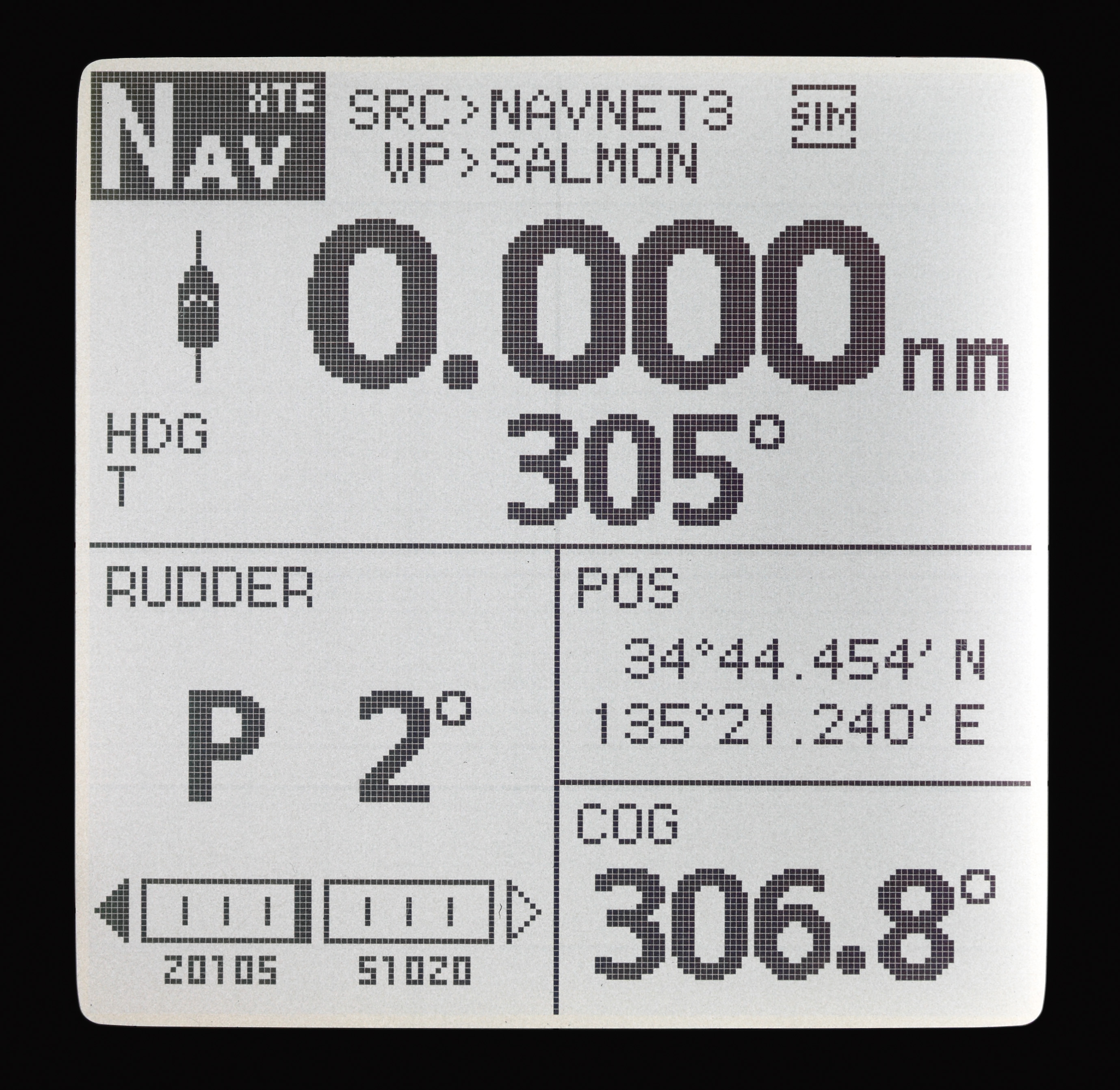 NAVPILOT700
Autopilots
Ref : IMD03181002
Autopilot CAN Bus, 5", Self Learning, Adaptive Autopilot - Double-Din Size Display
PRIX : 2 590,00 € TTC (20%)

Descriptif
Self-learning and adaptive software
From the first dock-side setup through the last voyage you made, NavPilot700 continues to learn your vessel's steering characteristics. This allows dynamic adjustments to the boat's steering for vessel speed, trim, draft, tide and wind effects, weather, etc. These characteristics are stored in the processor's memory where they are continuously optimized to make the NavPilot700 more versatile.
Display modes for NavPilot700
The NavPilot700 use various display options to customize data to suit your own preferences using a variety of digital and analogue graphics.

FishHunter for NavPilot700
FishHunter is a unique feature of FURUNO's NAVpilot series. Find a fish target with your FURUNO sonar/sounder or bird target with your FURUNO radar and feed it to the NAVpilot. The NavPilot700 will activate the FishHunter to perform square, zigzag, circle, orbit, spiral or figure eight maneuvers around the specied target at a user selected distance. This feature can also be used for Man Overboard (MOB).

---
Plus produit
NavPilot700 is a revolutionary autopilot with a sunlight viewable display designed for a variety of vessels. It utilizes a self-learning and adaptive software algorithm, and plays the ultimate role in course keeping capability, dynamically adjusting essential parameters for navigation i.e., vessel speed, trim, draught, tide and wind effects, dead band, weather, etc. These parameters are stored in the system memory and continuously optimized.
---
Caracteristiques
CONTROL UNIT
Display 4.6" Monochrome LCD
Effective Display Area 85.2 (W) x 85.2 (H) mm
Pixel Number 160 x 160
Backlight 8 steps
Contrast 16 steps

PROCESSOR UNIT
Steering modes STBY, Auto, Dodge, Turn, Remote, Advanced auto*, Navigation*, Wind*, Fish Hunter™*

* external data required
Sea Condition Adjustment AUTO/MANUAL-CALM/MODERATE/ROUGH
Rudder Angle Settings 10 - 45 deg
Alarm Heading deviation, Cross-track error*, Ship's speed*, Depth*, Water temperature*, Wind*, Watch, Log trip*

* external data required

INTERFACE
Ports CAN bus (NMEA2000): 1, NMEA0183: 2
Input AAM, APB, BOD, BWC, BWR, DBT, DPT, GGA, GLL, GNS, HDG, HDM, HDT, MTW, MWV, RMB, RMC, ROT, RSA, THS, TLL, VHW, VTG, VWR, VWT, XTE, ZDA
Input (CAN bus) 059392/904, 060928, 061184, 126208/720/992/996, 127250/251/258/488/489, 128259/267, 129025/026/029/033/283/284/285, 130306/310/311/312/313/314/577/818/821/827/880
Output DBT, DPT, GGA, GLL, GNS, HDG, HDM, HDT, MTW, MWV, RMB, RMC, ROT, RSA, VHW, VTG, VWR, VWT, ZDA
Output (CAN bus) 059392/904, 060928, 061184, 126208/464/720/992/996, 127245/250/251/258, 128259/267, 129025/026/029/033/283/284/285, 130306/310/311/312/822/823/827

WATERPROOFING
Processor Unit IPX0
Control Unit IP56
Other unit IPX5

OTHERS
Power Supply 12-24 VDC: 4.0 - 2.0 A (excluding pump)
Size 115 (H) x 220 (W) x 81 (D)
Weight 0.62 kg
---
Contenu
1 X Controller
1 X Protective cover
1 X Connection cable control <> processor, 15m
1 X Termination
1 X Installation joint
1 X Cutting guide for embedding
1 X Processor
4 X Fuses
1 X Cable, 20m
1 X Feedback linkage with ball joint
1 X Installation kits
1 X Installation Manual
1 X User Manual
1 X Simplified User Guide Laminated (multilingual)
Caracteristiques techniques
Brightness : 700 cd/m2
Function : Stby, Auto, Dodge, Turn, Nav, Wind, FishHunter
Mode : Fantum Feedback and SABIKI
NMEA0183 : 2
NMEA2000 : 1
Power input : 12/24 V
Puissance groupe : 25 A continuous, 50 A for 5 s
Resolution : 160x160 Pixels
Screan size : 5 "
Waterproof : 56 IP

---
---
---
---
Recommended Additions