CV7-V
Wind and weather sensors
Ref : LC-CV7-V
Ultrasound anemometer
PRIX : 690,00 € TTC (20%)
Descriptif
The CV7-V is an ultrasonic wind vane anemometer with vertical arm
The CV7-V is a 9 / 33Vdc vertical arm ultrasonic wind vane anemometer. This sensor has a vertical support of 30cm. In terms of functionality, they are identical to the CV7 ultrasound wind sensor with inclined arm.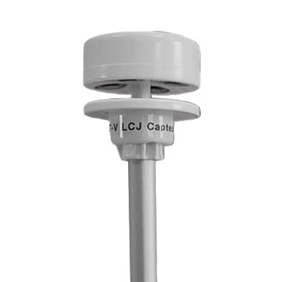 ---
Plus produit
CV7-V is the ultrasonic wind sensor for motorboats.
This ultrasonic wind sensor CV7-V comes with a mounting arm specifically designed for easy installation on any horizontal surface such as the cabin roof, a radar arch or a flybridge.
The ultrasonic wind sensor CV7-V can also be installed on a sailboat where there is not enough space on the masthead. The arm can be fixed to the side of the mast.
The ultrasonic wind sensor CV7-V's bracket is compatible with Glomex© type mounting bases.
The small size of this sensor makes it very discreet.
This ultrasonic wind sensor CV7-V can be set up to match the requirements all kinds of slow or fast boats.
ICV7-V can be used connected to a PC and any systems featuring an NMEA® input port and specific pieces of equipment using conventional formats.
In PC mode, this bidirectional sensor can be set up for angle correction, damping, measure units and interface format.
---
Caracteristiques
The CV7-V is an ultrasonic wind vane-anemometer sensor with vertical arms :
Interconnections : 0-12V
NMEA+
NMEA-
Weight of the head : 100 gr
Mounting type: Vertical mast
legh : 30 cm
diameter : 16mm
---
Contenu
1 X Wind vane sensor - CV7-V ultrasonic anemometer with 31 cm vertical support
1 X Fixing bracket
1 X 25 m of cable 4X 0.22mm²
1 X Instruction of assembly and use
1 X Guarantee 2 years parts and labour
Caracteristiques techniques
Barometer : NO
Bracket : Vertical
Brand : LCJ
Dynamics of the wind module : 0.25-80 Nds
NMEA0183 : 1
Power input : 9/33 V
Sensitivity of direction : ±1 °
Type : Ultrasonic
Weight : 0.2 Kg
Wind module sensitivity : 0.25 Nd

---
Pieces et accessoires
| | | |
| --- | --- | --- |
| LC-INTERFACE-CV7 | INTERFACE CANBUS POUR CV7 | NC |
| STBG | STBG INTERFACE UNIVERSELLE PR CV7, CV7-V et CV7-C 12V | 240,00 € TTC (20%) |
---
Telechargements
---