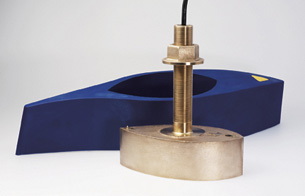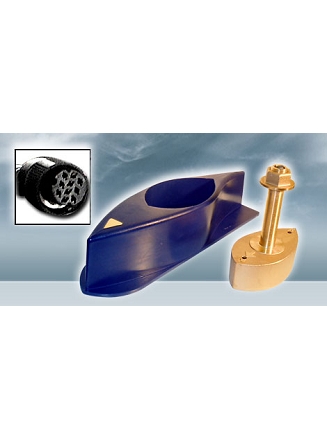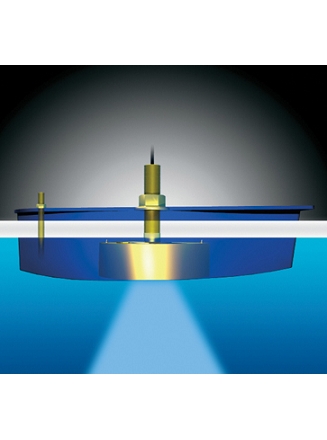 B260
Boat transducers & sensors
Ref : AI-41-282-1-03
Transducer True-hull 1kW Bronze 50/200 kHz 2 functions
PRICE : 1 600,00 € With VAT (20%)
---
Product advantages
Powerful, Yet Sensitive!

The B260 will enhance fish detection on virtually all of today's fish finders. High-performance has been redefined with its Broadband Ceramic Technology. The narrow, 6° beam 200 kHz ceramic will give you excellent resolution and crisp image detail needed for bottom fishing. The B260's low ringing is perfect for finding fish holding tight to the bottom and other structure. The seven-element 50 kHz array has a wider 19° beam for deeper blue-water fishing. The outcome at both frequencies is excellent resolution and crisp image detail where it's needed most.
Streamlined Performance
This best seller B260 is offered in both bronze and stainless steel housings. Get maximum results, on any hull material, when installed with a custom-fitting High-Performance Fairing. At speeds over 30 knots (34 MPH), screens continue to display clear images and solid bottom tracking.
Applications
Blue-water trolling using 50 kHz
Deep-water bottom and wreck fishing up to 800 m (2,625')
---
Features
The transducer B260:

Top-of-the-line 1 kW thru-hull model
Depth and fast-response water-temperature sensor
Recommended for sportfishing boats above 9 m (30') and small to mid-size commercial fishing boats
Available with a diplexer for single-transmission-line fishfinders and without a diplexer for dual-transmission-line fishfinders
Bronze or stainless steel housings available
Interfaces to any 600 W or 1 kW echosounder
Exclusive Xducer ID® technology
Weight: 7.3 kg (16 lb)
Hull Deadrise: Up to 20° with fairing
Acoustic Window: Urethane
---
In the box
1 X Transducer B260
1 X 10m Cable
1 X Base
1 X Fixing bolt
1 X Installation manual in English
Technical characteristics
Beam : 19/6 °
Ceramic : 0 °
CHIRP : No
Fairing : Yes
For BBDS1 : Yes
For GP1871F & GP1971F : Yes
For TZT12F_TZT16F_TZT19F : Yes
For TZT9F : Yes
For TZTL12F_TZTL15F_TZT2BB : Yes
Fot FCV588 : Yes
Frequency : Low-High kHz
Material : Bronze
Power : 1k W
Speed : No
Temperature : Yes
Type : Thru Hull
XID : Yes
Brand : AIRMAR
Depth : Yes

---
Parts and accessories
| | | |
| --- | --- | --- |
| 00014250300 | MJ-A10SPF/SRMD-100 CABLE EQUIPE MJ-A10SPF/SRMD-100 - Replaced by AI-33-203-04 | 96,00 € With VAT (20%) |
| AI-33-391-05 | SABOT PROFILE POUR B260/B265LH HIGH PERFORMANCE - AIRMAR - Replaced by AI-33-391-01 | 202,80 € With VAT (20%) |
---
Downloads
---