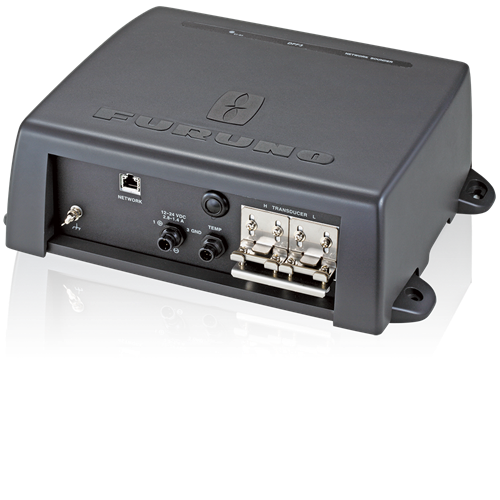 DFF3
Sounder Black Box & Pro.
Ref : IMD02949001
Black Box Sounder 1-3 kW 28-200 kHz for NNTZT and TZT2
PRIX : 3 000,00 € TTC (20%)

---
Plus produit
Utilizes FDF (Furuno Digital Filter) signal processing technology

Output power 1 to 3 kW

Furuno Free Synthesizer (FFS) allows for selectable operating frequency of 28 to 200 kHz

Dual frequency, alternate transmission

Compatible with Airmar transducer ID technology

Heaving compensation with use of the SC-30/50/110

Variable Transmission Rate for different depth ranges allows for more detailed observation of bottom

Dedicated 6-pin temperature sensor port available

WAGO connection for ease of installation
---
Caracteristiques
Furuno's DFF3 is a network sounder featuring Furuno Digital Filter (FDF) Technology designed for use with NavNet series devices. This digital Network Sounder can turn any NavNet display into a powerful, dual-frequency digital fish finder. The compact network sounder unit connects directly to a NavNet display or an Ethernet hub with a single Ethernet cable. If it is connected to an Ethernet hub that has multiple displays attached, each of those displays will have access to the Network Sounder.
---
Contenu
1 x Processor Unit DFF3
1 x Power Cable Assembly 3.5 m
1 x LAN Cable Assembly 5 m
1 x Installation Materials
Caracteristiques techniques
Frequency : 28-200 kHz
LAN : 1
Power : 1k-3k W
Power input : 12/24 V
Waterproof : 22 IP

---
Pieces et accessoires
| | | |
| --- | --- | --- |
| 00001348600 | PR-62 ALIMENTATION AC/DC | 826,56 € TTC (20%) |
| 28F-8 | Transducer 28F8 - 28kHz - Rubber - cable 15m | 1 198,80 € TTC (20%) |
| 88B-8 | Transducer 88B8 (1kW) - 88kHz - Rubber - cable 15m | 672,00 € TTC (20%) |
| 88B-10 | 88B-10 *15M* SONDE 2KW 88KHz 15M | 1 098,00 € TTC (20%) |
| 200B-5S | 200B-5S *10M* SONDE 1KW 200KHz 10M | NC |
| 200B-8B | Transducer 200B8B (1 or 2kW) - 200kHz - Rubber - cable 15m | NC |
| 50BL-24H | 50BL-24H SONDE 3KW 50KHZ | NC |
| 50B-6 | 50B-6 *10M* SONDE 1kW 50kHZ | 310,00 € TTC (20%) |
| 50B-6B | 50B-6B *15M* SONDE 1KW 50KHz | NC |
| 50B-9B | Transducer 50B9B - 50kHz - Rubber - cable 15m | 618,00 € TTC (20%) |
| 200B-12H | 200B-12H *15M* SONDE 3KW 200KHz 15M | NC |
| 28BL-6HR | Transducer 28BL-6HR - 28kHz - Plastic - cable 15m | 1 764,00 € TTC (20%) |
| 28BL-12HR | 28BL-12HR SONDE 3KW 28KHz 15M | NC |
| 38BL-9HR | 38BL-9HR SONDE 2KW 38KHz 15M | 1 742,40 € TTC (20%) |
| 82B-35R | Transducer 82B35R 65 to 110kHz - Rubber - cable 15m | 2 940,00 € TTC (20%) |
| 50BL-12HR | Furuno FRP Transducer Blt Type 50BL-12HR 2kw 50kHz No Plug | 1 740,00 € TTC (20%) |
| 00001509400 | 50BL-24HR SONDE 3KW 28KHz 15M | NC |
| 50/200-1T | Transducer 50-200-1T/ 50/200kHz/1kW/10m Plastic | 1 050,00 € TTC (20%) |
| 50/200-12M | 50/200-12M (BRONZE) SONDE BI-FREQUENCE | 1 050,00 € TTC (20%) |
| 00001520600 | TFB-5000(1) TRAVERSEE COQUE TRAVERSEE SIMPLE COQUE FER | 178,56 € TTC (20%) |
| 00001520700 | TWB-6000(2) TRAVERSEE COQUE | 950,04 € TTC (20%) |
| 00001520900 | TFB-7000(2) TRAVERSEE COQUE | 1 068,48 € TTC (20%) |
| 00002689300 | T-04MSB CAPTEUR TEMPERATURE | 504,24 € TTC (20%) |
| 00002689400 | T-04MTB CAPTEUR TEMPERATURE | 184,03 € TTC (20%) |
| 00004002700 | T-03MSB CAPTEUR TEMPERATURE | 1 248,00 € TTC (20%) |
| 00015970512 | MJ-A6SPF0017-050C CA. ETHERNET 5m 6PF/RJ45 2 PAIRES | 79,80 € TTC (20%) |
| 00015970612 | MJ-A6SPF0017-100C CABLE EQUIPE | NC |
| 00116415010 | ST-02MSB CAPTEUR TEMP.& VITESSE | 398,33 € TTC (20%) |
| 00116416010 | ST-02PSB CAPTEUR TEMP.& VITESS PLASTIC | 210,00 € TTC (20%) |
| 00116788010 | MOD-Z072-020+ CABLE EQUIPE RESEAU LAN 2M | 56,40 € TTC (20%) |
| 00116790010 | MOD-Z072-100+ CABLE EQUIPE RESEAU LAN 10M | 93,60 € TTC (20%) |
| R399 | R399 SONDE INT FIBRE 2-3KW MOD. FREQ./P/XID 15M | 3 200,00 € TTC (20%) |
| 00001503000 | 200B-8 *10M* TRANSDUCER | NC |
| 00004004000 | T-02MSB CAPTEUR DE TEMPERATURE | NC |
| 00004002600 | T-02MTB TEMPERATURE SENSOR | NC |
| 00014446311 | MJA6SRMD/TM11AP8-005 HUB ADAPTOR CABLE | NC |
| 00014446300 | MJA6SRMD/TM11AP8-005 CABLE ADAPTATION HUB - Remplace par 00141753000 | 100,46 € TTC (20%) |
| 00141753000 | MJA6SRMD/TM11AP8-005 HUB ADAPTOR CABLE | NC |
| 00001521800 | TRB-1100(2) THRU-HULL PIPE | NC |
| 00001520500 | TFB-4000(1) THRU-HULL PIPE | NC |
| 00001509200 | 38BL-15HR TRANSDUCER | NC |
| 00015970412 | MJ-A6SPF0017-010C CABLE ASSEMBLY | NC |
| 00015970712 | MJ-A6SPF0017-200C CABLE ASSEMBLY | NC |
| 00015970812 | MJ-A6SPF0017-300C CABLE ASSEMBLY | NC |
| 00001348400 | PR-62 (CHINA) ALIMENTATION AC/DC | NC |
| 00001506800 | 88F-126H TRANSDUCER | NC |
| 00001507300 | 68F-30H TRANSDUCER | NC |
| | | |
| --- | --- | --- |
| 00013798601 | ST-02MSB CAPTEUR TEMP.& VITESSE - Remplace par 00116415010 | 398,33 € TTC (20%) |
| 00016727410 | 734206-1JP-#18-L50 CONNECTEUR | 62,93 € TTC (20%) |
| 00104442000 | 02P6358(LF) MAIN PLATINE | 1 614,05 € TTC (20%) |
| 00104443000 | 02P6361(LF) RX PLATINE | 911,14 € TTC (20%) |
| 00104444000 | 02P6360(LF) CON PLATINE | 400,75 € TTC (20%) |
| 00104445000 | 02P6359(LF) PWRTX PLATINE | 2 265,41 € TTC (20%) |
| 00104020000 | DFF3 CASE CASE ASSEMBLY | NC |
| 00104021000 | DFF3 F-PLATE A FIXING PLATE ASSEMBLY (A) | 62,93 € TTC (20%) |
| 00104022000 | DFF3 F-PLATE B FIXING PLATE ASSEMBLY (B) | 39,74 € TTC (20%) |
| 00104023000 | DFF3 FOR CHASSIS CHASSIS ASSEMBLY | 127,18 € TTC (20%) |
| 10034419210 | 02-161-1002-2 BASE XL | 91,85 € TTC (20%) |
| 10029844210 | 02-139-1016-2 ROHS WATERPROOF CAP | NC |
| 00104024000 | DFF3 T-OPENER TERMINAL OPENER SET | NC |
| 00104018000 | DFF3 P-FILM PROTECTION FILM | 27,82 € TTC (20%) |
| 00104019000 | DFF3 CBL-CLAMP CABLE CLAMP ASSEMBLY | NC |
| 00015449810 | MJ-AC WATERPROOF CAP | 1,76 € TTC (20%) |
| 00104017000 | DFF3 P-COVER PROTECTION COVER ASSEMBLY | 116,58 € TTC (20%) |
| 00016905011 | 02-161-P101-1 PAD1 | 69,55 € TTC (20%) |
| 00016905111 | 02-161-P102-1 PAD2 | 62,93 € TTC (20%) |
| 00104016000 | DFF3 COVER XL COVER XL ASSEMBLY | 218,59 € TTC (20%) |
---
---
Recommended Additions